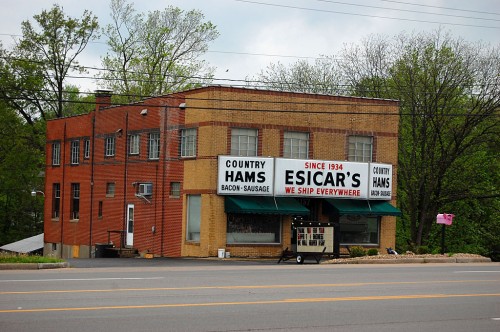 I mentioned back in April that I didn't think I had ever been in Esicar's. There was such an immediate outcry from readers wondering if was really a Cape Girardeau resident that I had to scurry to produce a certified copy of my birth certificate. That, plus a pledge to try them the next time I hit town stilled the mob for awhile.
The photo above was taken April 22, not long after a March 6, 2011, fire that did an estimated $300,000 damage to the structure. The Missourian reported that the electrical fire was ruled accidental. The portable sign in front of the store reads, "Thank you for your support & business. We will open ASAP."
Still closed July 22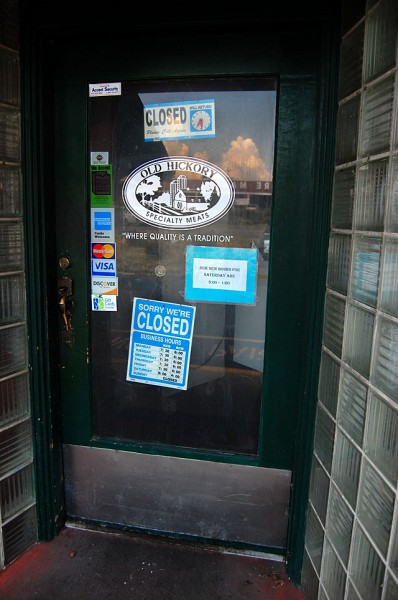 After passing the place for a couple of weeks without seeing any activity, I stopped by the business on July 22. The portable sign promising to "reopen ASAP" is gone, but the two white buckets full of greasy water are still there.
This was taken at 10:41 am, on a Friday, well within the posted business hours, but the door was locked and two CLOSED signs were displayed.
Looks the same as it did in April
Everything inside the north front window looks like it's in the same place as it was on my last visit.
South window unchanged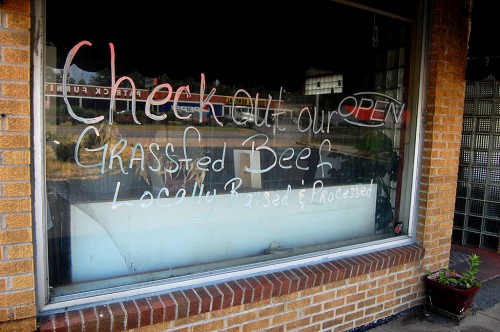 Nothing has changed in the south window in three months and the glass has that smoky, greasy appearance of a building where a fire has occurred. The OPEN sign was not illuminated.
Fliers promote March events.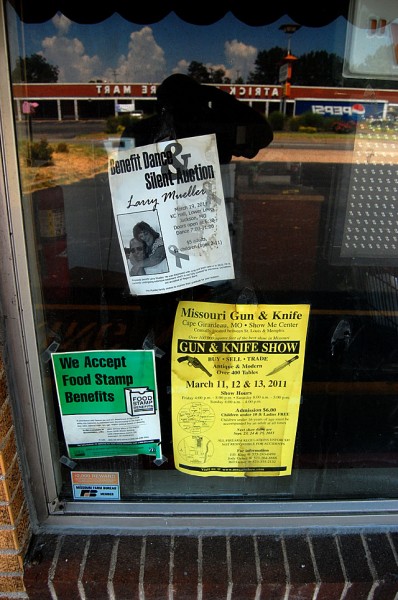 More telling is that the fliers in the window promote events that happened in March. If a Cape County business doesn't have a Jacque Sue Waller poster up, then you KNOW they're closed.
(Jacque Sue Waller is a mother of triplets who went missing on the day when she was going to finalize divorce proceedings and to pick up her son from his father. Her car was found abandoned with a flat tire along I-55, but there's been no trace of her. Her husband is a "person of interest," but no arrests have been made because it's not clear what crime, if any has been committed. Keep watching TV. The missing woman is young and attractive, so she may be the next woman to take over Casey Anthony's spot on the news. The Missourian has created a special section to keep you updated.)
Interior in disarray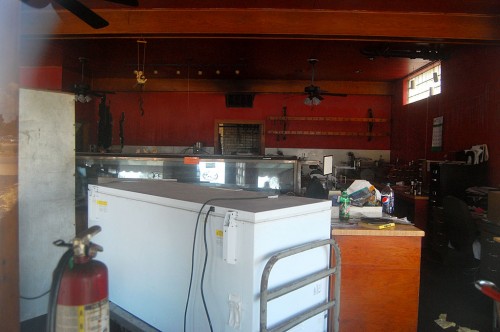 A glance through the front store window shows an unplugged freezer on a cart, general disarray, partially empty soft drink bottles on the counter and a dark ceiling that looks like has black smoke near the vent in the middle of the room. It's pretty much the same as I remember seeing in April.
Neighboring businesses don't know anything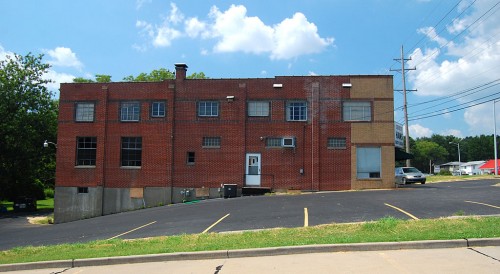 I checked with two businesses just south of the store. One said they hadn't seen anyone in the place since the March fire. Another thought they were closed and did an Internet search which turned up at least one complaint from someone who had a gift card that wasn't being honored.
I placed a call to the telephone number listed on Esicar's Old Hickory Smokehouse website and reached a telephone company intercept message telling me that I have to dial a 1 or a 0 in front of the number. Considering that I'm calling from a cell phone, I can only assume that the call is being forwarded somewhere, because I shouldn't have to dial a 1 or 0 in front of any number in the continental U.S.
Something else that's odd about the website is that it has a management/semo.edu address. Does SEMO host business websites?
Empty shopping carts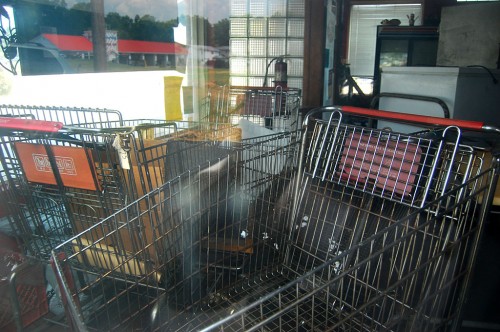 A peek through the north window shows shopping carts in the same position for three months.
Is this the end of the line?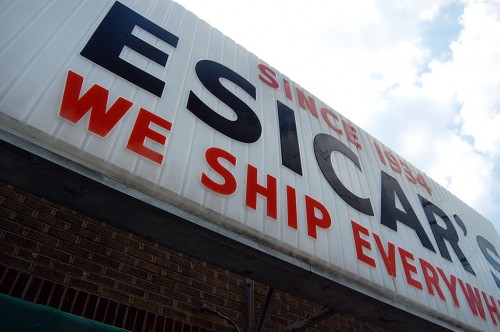 Esicar's was established in 1934 and was sold in 2007. Will a fire in 2011 mark the end of a Cape Girardeau landmark business? If anyone has any information about when and if the business is going to reopen, let me know.
It sounds like it's over for Esicar's for now
Update: after writing this and before pressing the PUBLISH button, I received an email from a reader who wrote, "They are not going to open again under this ownership.  The electrical fire destroyed all the meat cases, the interior and all the meats they had
on hand.  I will really miss them and I can't find any bacon that is nearly as good as theirs. What a loss!  The insurance did not begin to cover their expenses."