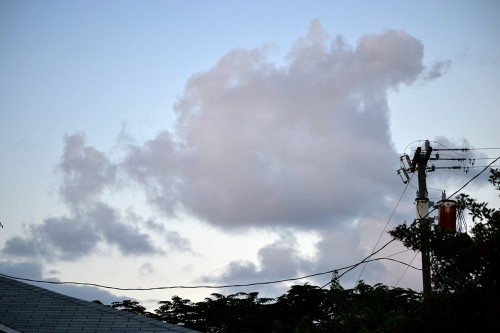 Wife Lila was in the kitchen constructing one of her incomparable chicken pot pies with the news on to keep her company. Suddenly, she said, "There's going to be a rocket launch in two minutes."
We made our usual mad dash out to the fence where we used to look over "Helen's House" to see the shuttles go up about 11 seconds after liftoff off at Cape Canaveral.
There were some clouds scudding by, but we were pretty sure we'd see the bright trail of flame any second.
You can click on the photos to make them larger, but I wouldn't bother. There's not anything to see.
Minutes go by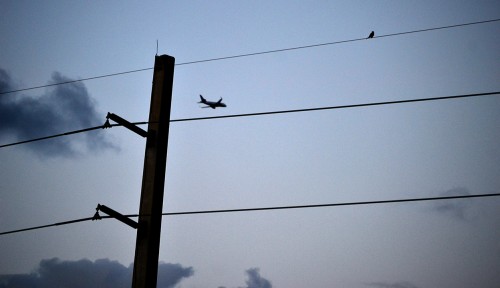 When the two minutes went by with no joy, then three, then five, we decided that either the launch had been scrubbed or we had missed it.
A bird on a wire and a jet departing Palm Beach International Airport was it for the evening.
When we got back inside, I saw a bulletin from Al Stern, a radio buff in Satellite Beach: "Tonight's SpaceX Dragon 9 rocket launch from Cape Canaveral AFS has been scrubbed due to a Range Tracking Station problem."
Looks like it'll be Monday
An NBC news site elaborated: Radar tracking is a critical part of operations for a space launch, because range safety officers need to be able to destroy the rocket in case it goes off course during ascent. SpaceX founder Elon Musk said the launch team was also dealing with a problem that affected a transmitter on the rocket's first stage.
If they get the problem fixed, I guess we'll be back at the fence at 6:07 p.m. ET Monday. There is a 40 percent chance of acceptable weather.