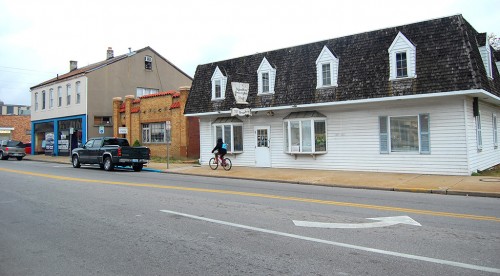 Homer Armor George founded the Broadway Prescription Shop in 1932, and eventually passed it on to his sons, Milton and Harry.
There was a confusing Out of the Past column note that talked about how the business got into its current location: "Dec. 22, 1959: A three-way shift is underway in the 700 block of Broadway that will transfer Michael's Drug Store, Broadway Prescription Shop and the Blue Note Cafe to different locations; the store is moving to the Bauer building at the northwest corner of Broadway and Sprigg Street; the Blue Note will move to the Michael property at 731 Broadway; and Homer George will move Broadway Prescription to the Blue Note's current spot."
The brown brick building to the west used to be occupied by Dr. Wilson and Dr. Estes.
Changes since 2009 photo
Broadway Prescription Shop, Cape's oldest drugstore, has undergone some changes since I shot this photo in the fall of 2009.
Two SEMO graduates, Lee Schlitt and Kevin Wood, bought the pharmacy in 2011. One of the most visible changes to passersby on Broadway is a restoration of the 40-year-old wooden sign that is said to be the oldest one in Cape.
One of the things that struck me when I did a history of the shoe factory was how the lives of the employees were recorded over the years in the newspaper. The Broadway Prescription Shop was much the same way, with stories of weddings, births and hospital stays popping up from time to time.
Obituaries
Here are some obituaries connected with the drugstore:
Milton George: Milton Armor George, 79, of Cape Girardeau passed away Friday, May 4, 2012, at Southeast Hospital in Cape Girardeau.Milton graduated from Cape Girardeau Central High School and St. Louis College of Pharmacy. Upon graduation, he joined the family business, Broadway Prescription Shop, with his father Homer. He purchased the business from his father, and upon retirement in 1998, sold the business to his brother, Harry George.
Jean Gerhardt: Jean Haynes Gerhardt, 70, of Cape Girardeau died Thursday, Jan. 23, 2003, in North Carolina. Mrs. Gerhardt worked for Dr. Nussbaum several years, and retired fromBroadway Prescription Shop.
Donald Hente: Donald Martin Hente, 95, of Cape Girardeau, died Friday, Jan. 14, 2011, at The Lutheran Home. Donald attended Trinity Lutheran Grade School. He was a graduate of College High School. He was also a graduate of St. Louis College of Pharmacy. He was a pharmacist for Broadway Prescription Shop, Finney's and various other Southeast Missouri pharmacies.

Runyon Dyer

: Runyon Estes Dyer, 92, died Wednesday, Dec. 5, 2001, at Missouri Veterans Home in Cape Girardeau. Runyon was employed as a pharmacist in Cape Girardeau by the late Homer George in March 1949, and worked for Broadway Prescription Shop 36 years before retiring in 1985.