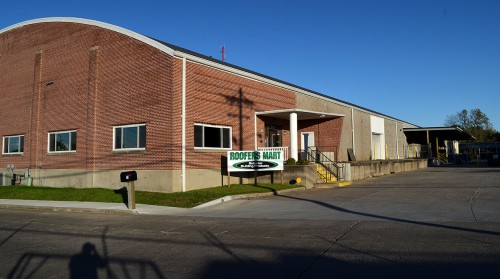 Mother and I picked up a chicken pot pie from KFC, then we headed north on Sheridan Drive to go home. When I got to the large building at 24 South Sheridan, I stopped to try to remember what that used to be. Roofers Mart is in it today, but I knew that had to be a recent tenant.
The Missourian came through, as usual. The paper had a full page advertisement announcing the formal opening of the new Cape Supply Company in the November 7, 1951, edition. It described a "modern warehouse" that was built with floor space "considerably more than an acre which is entirely free of posts." Railroad tracks could accommodate 10 boxcars, with six of them being unloaded at one time. It could hold 100 carloads of product, which would supply dealers within a 125-mile radius. It had enough truck docks to handle 25 vehicles at a time.
In typical newspaper advertising puffery the paper said, "These facilities provide the most efficient means of merchandising and handling of building materials known."
 Dow Chemical came in 1966
Dow Chemical Co. announced in the June 11, 1966, Missourian that it was establishing a manufacturing plant in the former Cape Supply Co. warehouse. The plant, Dow executive Paul Meeske said, would produce insulated building materials for use in the construction of low-temperature spaces.
I don't know what companies occupied the space between Dow Chemical and Roofers Mart.
I thought Ralph Edwards may have been there at one time, but I couldn't find any stories to support me. I also vaguely remember a company that made some kind of fishing equipment in Cape that might have been in there. Can anyone confirm my theories or come up with better ones?