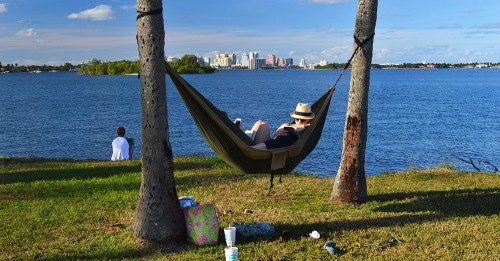 Road Warriorette Anne and I took a nice bike ride on a coolish Florida Saturday. I paused to take a photo, then looked on the other side of the causeway that leads from the West Palm Beach mainland to the rarefied island of Palm Beach. There was a young woman reading a book suspended in a hammock between two palm trees. (Click on the photos to make them larger.)
I abandoned Anne to get a closer look. A lot of bike tourists like hammocks because they are light and pack up very small, but I always thought of the big, heavy ones I remember from kidhood.
Two heads pop up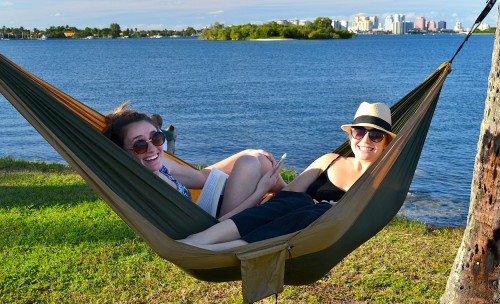 When I got within range, TWO heads popped up. I wasn't expecting that.
I didn't get their names, but I DID get the name of the hammock, which packs into the little square pouch hanging from the front of the hammock. It ends up about the size of a softball. They said this was an ENO, I didn't know enough at the time to ask if it was a double or a single, but I'm guessing it's a single.
Lots of favorable reviews
The reviews for the Eagles Nest Outfitters SingleNest Hammock on Amazon are almost universally favorable. The women said it's a snap to put it up and it doesn't harm the trees. What I didn't know to ask them was if the straps that go around the tree came with it. From the comments I read online and the photo of the hammock, they look like they are accessories. The doggone straps cost almost half as much as the hammock, and probably could be rigged on your own, but these sure looked easy to use.
Just south of the huge Kapok tree that is now off-limits to the public, darned if we didn't see another young woman hanging between two palm trees along the Lake Trail. Her hammock was a no-name from the Dominican Republic, but it looked and performed like the ENO. She said she likes to stretch out in it to study.
Big pile of sand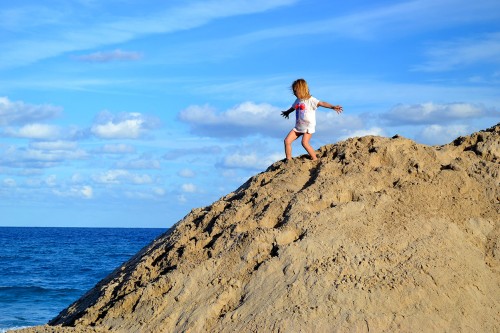 The public beach in Palm Beach was covered with huge piles of sand that had to have been close to three stories tall. Kids and adults were clambering all over them. This little girl was playing Queen of the World.
I was afraid she was going to take a tumble, but she enjoyed taking a step, feeling the sand slide out from under her, then rinse and repeat all the way to the bottom.
Donald Trump missile strike?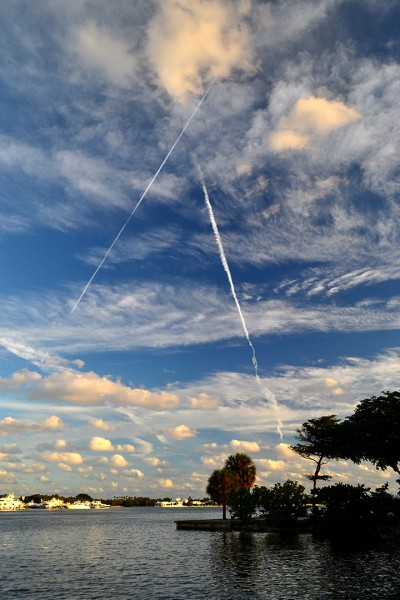 On our southbound leg down Flagler Boulevard in West Palm Beach, we spotted some strange contrails.
Donald Trump has been in the news lately because he filed a $100 million dollar lawsuit alleging that Palm Beach International Airport is deliberately flying planes over his property in Palm Beach. Considering that the airport has been there longer than Trump has been alive, and that the property, Mar-A-Lago is almost directly east of PBIA's main east/west runway, it should come as no surprise to him that jets, including his own personal jet, take off or land that way, depending on wind direction.
Figuring that his suit will probably be thrown out as having no merit, I thought maybe he had decided to take out a few jets to send a message. The vertical trail looks like it's coming from about the right spot to have been launched from Mar-A-Lago.