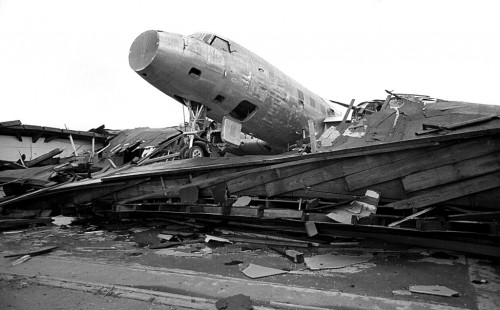 What The Missourian described as "the titanic collision of warm, moisture-laden air from the south with a rapidly advancing cold wave from the northeast brought not only severe weather over Southeast Missouri, but the prospect of up to three inches of snow.
The Dec. 21, 1967, story said the rare winter storm spawned tornadoes that struck McBride, Frohna and Potosi. Temperatures dropped from 30 to 35 degrees in a short period of time.
The McBride storm struck the Beldex Company hangars at the Perryville Airport.
The State Highway Patrol reported 18 injuries to workers who had been in one of the hangars that had been built when the airport was used a World War II flight training center. The airport is located about two miles northeast of McBride, near the Mississippi River.
Plane flipped on its back by the wind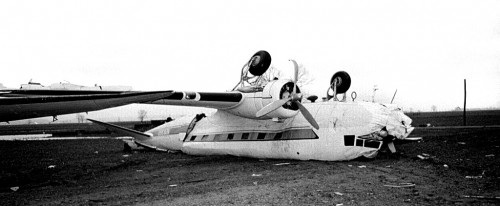 A more complete story the next day dropped the number of injured from 18 to 13, the most serious a fractured hip.
Brad Estes wrote that a funnel cloud hidden by fog and sheets of rain demolished two hangars where workers had no warnings.
"It all happened in about 20 seconds"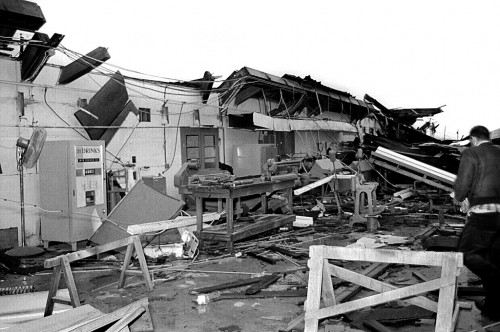 David Bierk of Perryville, who was not injured, said that it was raining very hard, getting dark, and then the lights went out. "A man working with me called my attention to a roar, but I didn't hear anything. That was just before the walls and windows started collapsing. Everybody tried to crawl under benches and tables. It all happened in about 20 seconds. We then took roll call to see if anyone was covered up."
The Beldex plant, which repaired aircraft commercially, employed about 110 men and had leased space from the City of Perryville for about 15 years.
The storm moved from the south to the northeast. It took down power lines, cutting power to an electric clock in a nearby grocery store at exactly 11:43 a.m. Only one building of a five-building complex at the airport was not damaged. It contained 10 planes, ranging in size from large jets to small single-engine planes.
Seven aircraft received considerable damage.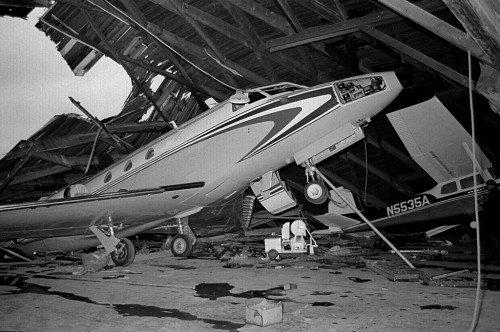 Three DC-3s were sitting outside and the winds flipped one over. Four other airplanes were in the demolished hangar. The roof fell on a Convair, two jet Sabreliners and a smaller single-engine aircraft.
East Perry Lumber Company hit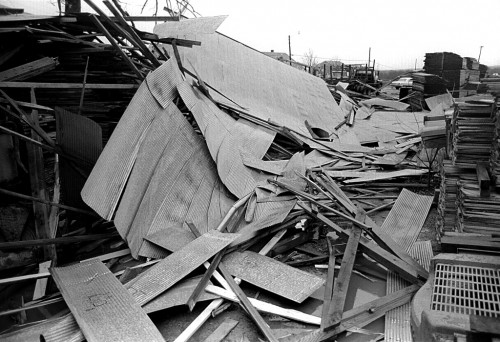 What was thought to be a different storm hit Frohna about 11 a.m.
Its force was concentrated in the area of the East Perry County Lumber Co., where it destroyed a warehouse filled with lumber and equipment. Lumber and debris were scattered all over the 40-acre yard.
Three houses across the road suffered only minor damage. The worst was a house owned by Omar Steffens. One wall of an attached garage was torn loose, but the roof stayed intact and a car inside appeared undamaged.
Potosi tornado killed three
A tornado that dropped out of a pre-dawn thunderstorm killed three and injured 52 in Potosi. The town of 2,800 is about 50 miles west of Perryville.
Other tornado stories
Gallery of McBride, Frohna tornado photos
Click on any photo to make it larger, then click on the left or right side of the image to move through the gallery.