This iconic sign on the door at 632 Good Hope caught my eye. I'm not sure what "LeBlanc's" refers to, although a steaming cup should give some kind of clue. Unnerstall's Drug Store, at 630 Good Hope, had a similar "name" door sign. (Click on the photos to make them larger.)
The 1968 City Directory lists Covington's Midtown Restaurant at that address. The 1979 directory had it listed as Mary Dee Cafe. The May 13, 1927 Missourian had a large ad for Krogers at 632 Broadway, 42 North Main Street, 632 Good Hope Street and 1133 Broadway. (You could buy 1-1/2 lb. Double Loaf Bead for 10 cents or a "large bunch" of carrots for 6 cents.
Was Farmers' and Merchants' Bank
The National Register of Historic Places registration form for Haarig says the 632 address originally housed the Farmers' & Merchants' Bank, and was home to photographer G.A. Kassel, and dentists Shelton and Popp.
Built around 1900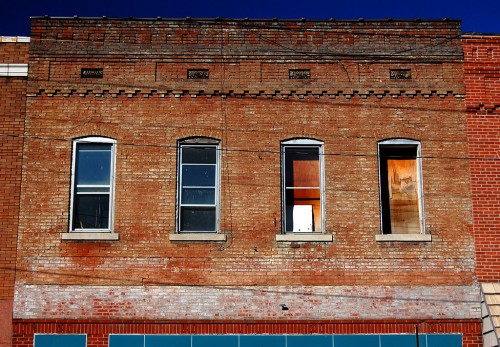 The register continues: This two-story brick building displays Italianate influences and was built ca. 1900. The original storefront has been removed and replaced with ca. 1960 brick bulkheads, aluminum and glass display windows, and an aluminum and glass entrance. The transom has been covered with metal panels. In the west bay of the storefront is an entrance leading to the second floor staircase. This entrance has a ca. 1970 solid wood door. In the upper facade are original one-over-one wood sash windows with added metal storm windows. The windows have stone sills and header course segmental arches. Above the windows is a row of corbelled brick and recessed panels with metal grilles. At the roofline is corbelled brick and terra cotta coping.
"Dutch" one of Dad's laborers, lived in an upstairs room in this block. It might have been in this building.