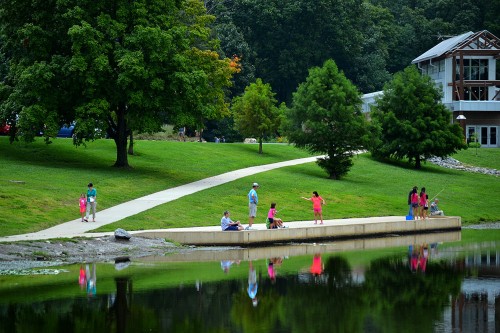 The hummingbird banding program we thought was going to be held at the Missouri Department of Conservation Nature Center at North County Park on Saturday morning turned out to be NEXT Saturday, so decided to people watch instead of bird watch.
The pond below the Nature Center is designated for "Kids Only," and it was getting a lot of use. (Click on the photos to make them larger.)
The official rules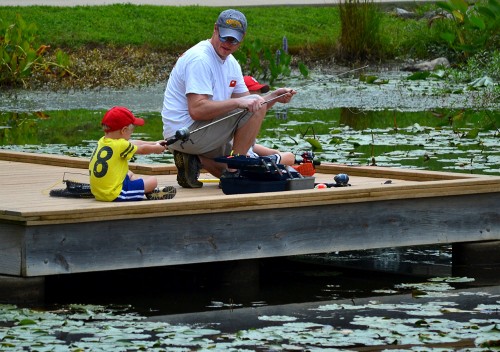 "Children 15 and younger may fish the pond for catfish, bass, crappie, and sunfish. They may keep 2 bass (15 in. min.), 2 catfish, and 20 of the sunfish/ crappie. Fishing equipment may be checked out at the front desk while the facility is open. Returns need to be made by 4:30. An adult with a current Mo fishing permit may assist children who fish. No permit is needed by adults who are not assisting."
Dads and Granddads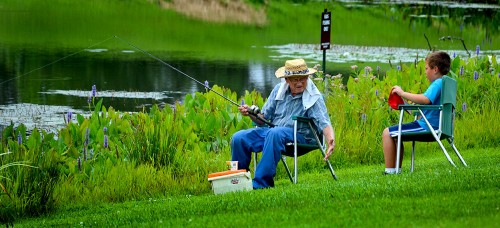 From what I could tell, there seemed to be more adults holding rods than kids, but who cares. Anytime you can get a kid, an adult and a fishing pole together, it doesn't matter who is holding it.
I loved it when Dad would say, "We're rained out today. Let's go out to the Number 9 Ditch. The catfish ought to be biting." It didn't matter if we caught something.
More fishing than catching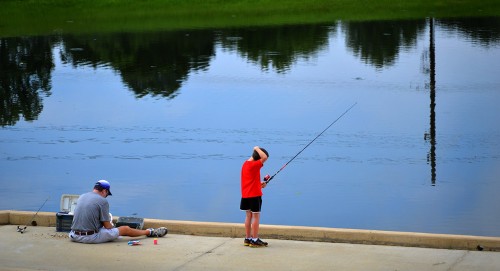 In the brief time we were there, we saw a lot more fishing being done than catching. The MDC pond description says it has a "good population." That must be because they didn't show any desire to change location.