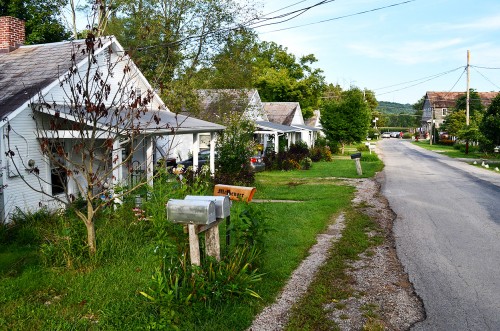 Back in 1955, just about the time I was becoming aware of music, Tennessee Ernie Ford came out with the song 16 Tons that contained the lines
You load sixteen tons, what do you get
Another day older and deeper in debt
Saint Peter don't you call me 'cause I can't go
I owe my soul to the company store
I ended up living in two parts of the country where company towns and company stores were common: Southeastern Ohio and North Carolina.
The Eclipse Company Store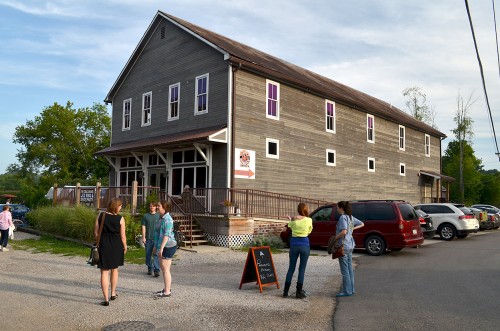 There is an excellent website that gives the history of the Eclipse Company Town, built by the Hocking Valley Coal Company between 1900 and 1902. This building, now occupied by Kiser's Barbecue, was the pay station and general store for the miners. Married miners without children rented the two front rooms on the second floor.
Curator Jessica said that workers were frequently paid in "scrip" that could only be spent at the company store. The Athens County Historical Society and Museum has some coins and one very rare $2 scrip in its collection. (Click on the photos to make them larger.)
Building saw various uses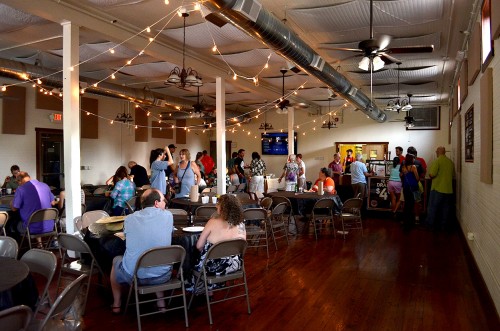 The mine operated from 1900 until the early 1930s when it and other area mines fell victim to the Depression. It was called back into service in 1940 as part of the World War II effort, and continued to operate until 1948.
After the mine closed, the store was used as a barn, a machine shop, and then a VFW Hall in the 1950s. It is a very popular restaurant these days.
Located on Hocking-Adena Bike Path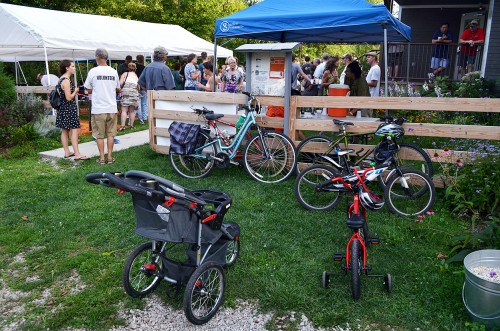 One reason for its success is its location on the rail-to-trail Hocking-Adena Bike Path. Live music was playing the evening Jessica and I went there. Bikes of every description – a triplet, recumbents, cruisers, beater bikes and kid bikes with training wheels – were parked all around.
Eclipse Company Town today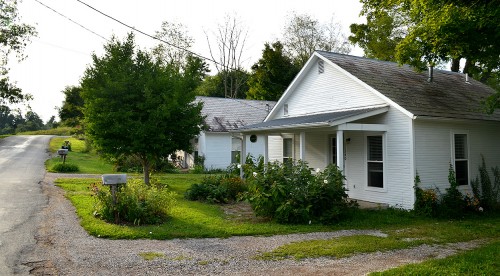 The website says the town is comprised of 12 company houses, one shotgun house and the company store.
Company towns came about for several reasons.
The mines were in relatively isolated areas with little transportation available, so the work force needed a place to live.
Because they were self-contained, the use of scrip was common. The stores allowed workers to buy on credit, so they came to "owe their soul to the company store," making for a captive labor force.
At the first hint of any union organizing, workers would be put out of their company houses, so they not only didn't have jobs and were in debt, but they and their families were homeless.
Nearly 2500 company towns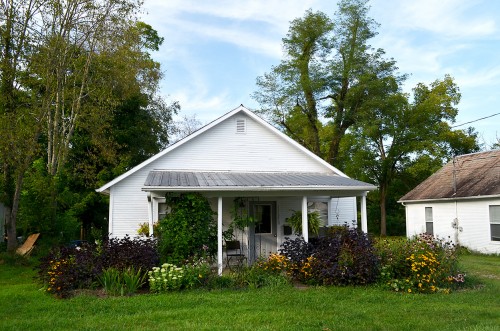 I've read that the United States had more than 2,500 company towns, housing 3 percent of the U.S. population at one time.
I remember the neatly-kept company town of McAdenville just outside Gastonia, N.C.. It was incorporated in 1881 to house workers at the McAden Mills, which has been known as Pharr Yarns since 1939.
It's still known as Christmas Town USA, for the huge Christmas lighting displays that attract some 300,000 automobile visitors a year.