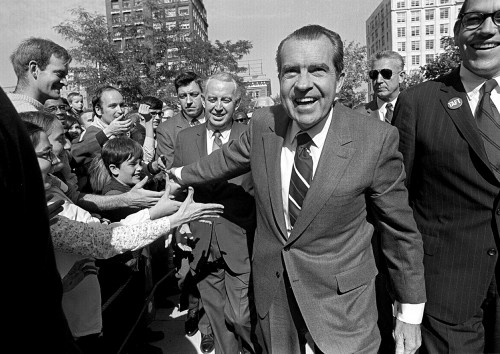 First off, I have no idea what the real name for the holiday is. When I Googled it, it came up as Presidents' Day, Presidents Day and President's Day. I'll go with Presidents' Day.
Richard Nixon was probably one of my least-favorite presidents, but he's also the POTUS I photographed more than all the rest.
Here he was in Columbus, Ohio, on October 18, 1970. President Richard's Nixon's Daily Diary said he was in town to stump for Robert Taft, Congressman, and Roger Cloud, Gubernatorial candidate. You can find his whole diary for October 16 – 31 here, if you are a real political junkie.
Uncharacteristically rumpled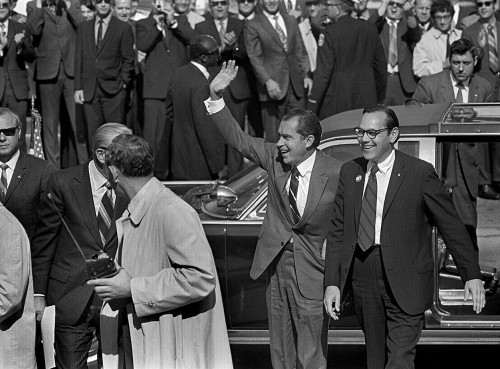 I was surprised to see a rumpled Nixon arrive at the rally. It must have been a rough flight.
Great access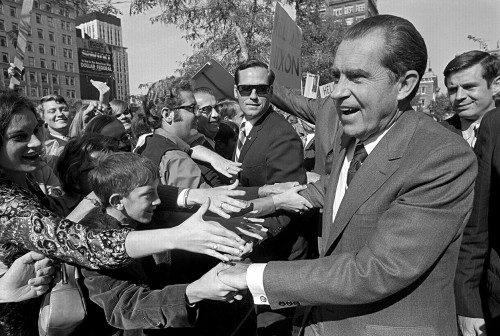 When I looked through the pictures, I was amazed at the level of access I had that day. I was all over the place and didn't appear to have any problems with security. Considering that this was after all the assassinations in 1968 and only five months after four students were gunned down at Kent State, I would have thought security would be tighter.
I learned early on (holy cow, I was only 23 when I shot these) that the best way to get into situations is to act like you belong there. If you hesitate, somebody is going to challenge you.
Then, I'm going to guess that I read when the scrum was going to head to the ropeline and I got there early enough that the SS guys could get a good read on me. The fact that my hands were always visible clutching a camera probably gave them a level of comfort. Once the party started moving, I stayed as fluid as possible, staying as close to the president as possible, but never stopping. In some frames, I have a secret service guy on my left and my right, but they never made an attempt to block me.
Look for the lapel pins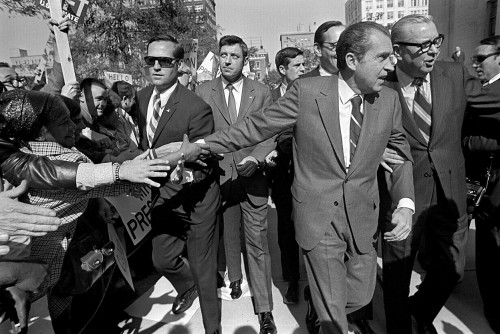 It's pretty easy to spot the protective detail: they are the guys with the triangular lapel pins and the roving eyes or eyes hidden by sunglasses.
I wonder, too, if, once they figured I wasn't a threat, they calculated that the skinny guy with the camera was just another bullet barrier that was expendable.
While covering Nixon at a golf tournament during the height of the Watergate scandal, we were kept well back from him. Suddenly, though, the detail motioned that would could approach his golf cart. He wouldn't answer any questions, but that was as close as we got to him that day.
Later, an agent said they had an unconfirmed report of a gun in the crowd and we were called in as a screen. I never found out if he was pulling my leg or not.
President Nixon photo gallery
Here's a whole stack of Richard Nixon photos. If they aren't enough, I also photographed him in Charlotte, N.C. a year later, when he appeared with Billy Graham on Billy Graham Day.
Click on any photo to maker it larger, then use your arrow keys to move through the gallery.