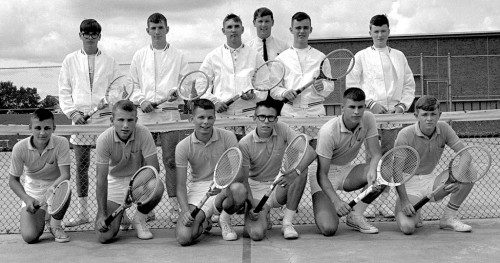 The 1966 Central High School Girardot reported that the 1965 tennis squad opened the season with a decisive 6 – 0 victory over the Jackson Indians. With consistent teamwork and impressive individual wins, the Tigers posted a 5 – 2 season record. The netmen downed College High, Bonne Terre, Chaffee, and Jackson twice, while dropping two to Sikeston. Coach Bob Hagedorn had four returning lettermen from the 1964 squad and lettered six for the 1965 season.
The caption identified the players as
Kneeling: Stan Friese, John Sachse, Mike Stuart, Bob White, Kenny Shrum, Bill Kaiser
Standing: Kenny Baker, Danny Jacob, Bob Wolfenkohler, Coach Hagedorn, Steve Black, Bob Malahy.
1968 Championship Tennis Team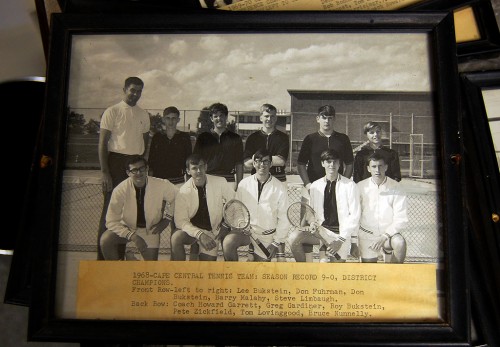 Central Junior High School Athletic Directory Terry Kitchen saved this photo of the 1968 championship team from the trash when Central moved to the new school west of town. You can see more championship photos and hear Kitchen talk about the Ghosts of Central High School here.