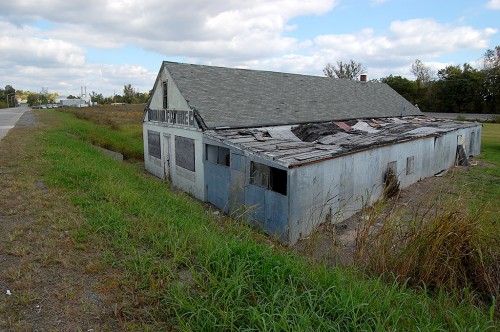 Lohmann Fixture Company is about the only old building left in what used to be called Smelterville. You have to look hard to see it peeking above South Sprigg Street.
The road has been raised to keep it from flooding. Seeing how far Lohmann's is below street level will give you an idea how low the community was and why it flooded every few years.
Lohmann's in 2008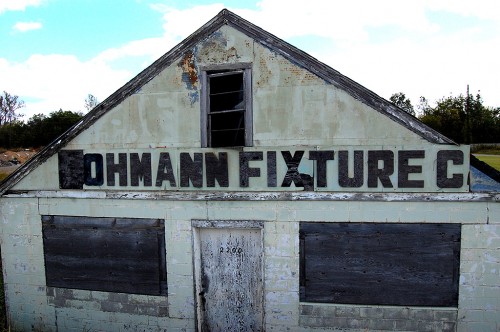 Brother Mark and I paused on one of our bike rides to shoot a few photos of the building in 2008.
Lohmann's in 2010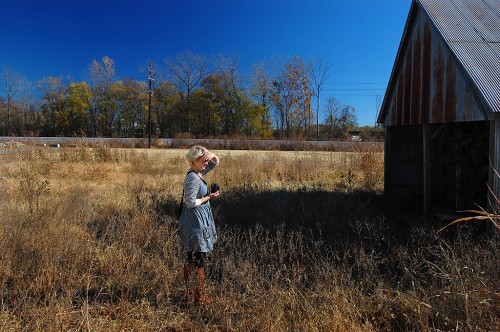 Niece Laurie Everett wanted to go on a photo ramble in the fall of 2010. We spent some time down at the 1929 railroad bridge over Cape LaCroix Creek, then we did some "peeling paint" photos of the old building.
Tool Ghosts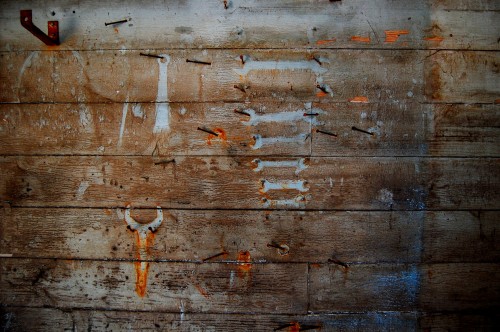 I always like to spot traces of things no longer there.
Not much info on business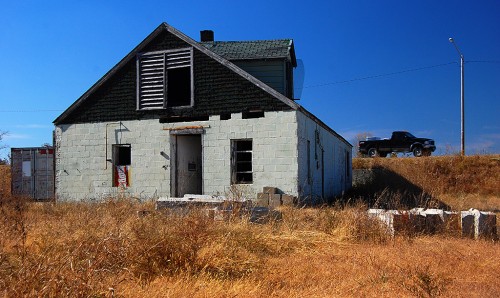 I saw some Missourian briefs about rummage sales to be held in the building, but not many other stories. The 1968 City Directory had a listing for Lohmann Fixture Company at 2300 South Sprigg. The building has 2200 on the front of it, but I assume it's the same business. Clarence A. Lohmann was listed as the president of the company.
Clarence A. Lohmann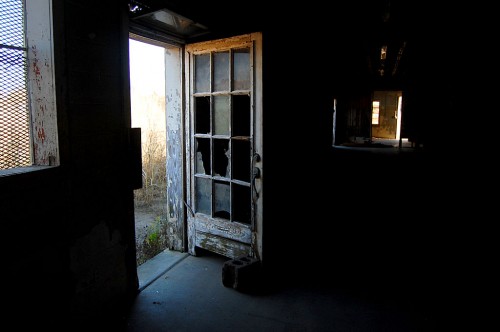 I found an obituary for Clarence A. Lohmann in the October 13,2008, Missourian.
"Clarence A. Lohmann, 89, of Cape Girardeau died Sunday, Oct. 12, 2008 at The Lutheran Home in Cape Girardeau.
He was born May 11, 1919, in Cape Girardeau, son of Edward and Emma Kohlfeld Lohmann. He and Vera (Felter)Lohmann were married Nov. 18, 1939, in Chaffee, Mo."
Served in World War II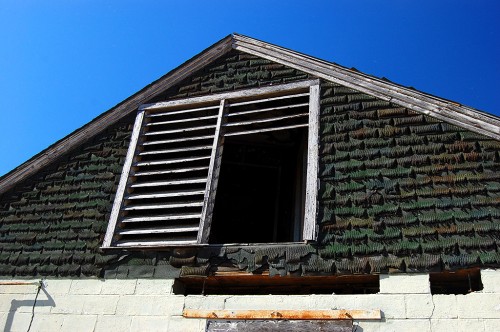 "Lohmann was owner of Lohmann Supply Co. and Semo Leasing for 60 years. He served in the U.S. Navy in World War II and was a member of VFW Post 3838 and American Legion Post 63. He was a member of St. Vincent de Paul Catholic Church, where he served as Eucharistic Minister, and was a member of Cursillo, St. Vincent Society Men's Club. He also was a member of Father Marquette Knights of Columbus 11205 and Thomas A. Langen 4th Degree Council and served as Faithful Navigator. He belonged to the Jesuit White House Retreat.
He was a former member of the Jaycees and charter member of the Exchange Club of Cape Girardeau for 50 years. He formerly belonged to Kimbeland Country Club and the Refrigeration Service Engineer Society. He graduated from Rankin Technical School of St. Louis."
Mr. Lohmann's family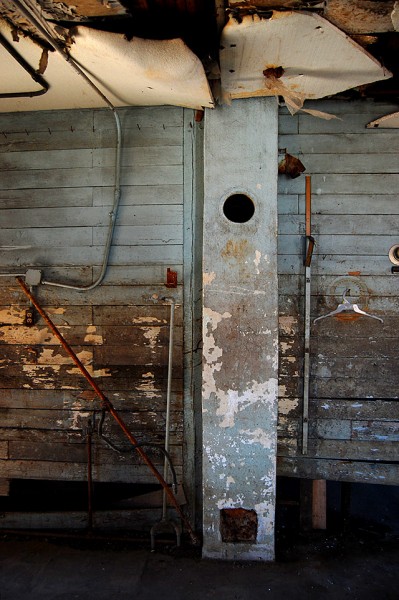 "Survivors include his wife, Vera Lohman of Cape Girardeau; a son, Dan (Tammy) Lohmann of Cape Girardeau; a daughter, Jane Lohmann of Houston; a grandson, Kirk Lohmann of Cape Girardeau; and a brother, Elmer Lohmann of Scott City.
He was preceded in death by his parents; three brothers, Elvis Lohmann, Arnold Lohmann and Richard Lohmann; and a sister, Erma Richter."
Photo gallery of Lohmann's Fixture Company
Here are a few more photos of the building, including an aerial. Click on any photo to make it larger, then click on the left or right side of the image to move through the gallery.