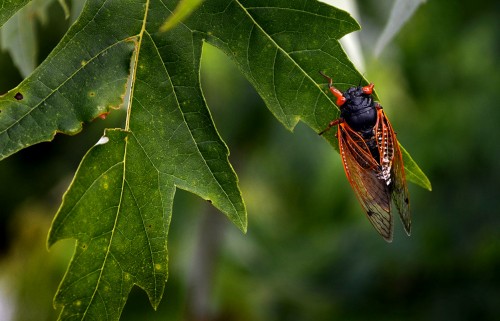 If I'm reading the news stories correctly, this is the big year for cicadas in Missouri and the Midwest. The 13-year brood is hitting the southeast part of Missouri at about the same time the 17-year variety is showing up in the northwestern part of the state. They get their names from the number of years they spend underground before coming out and creating a deafening noise.
Click on the photos to make them larger.
Won't happen for another 221 years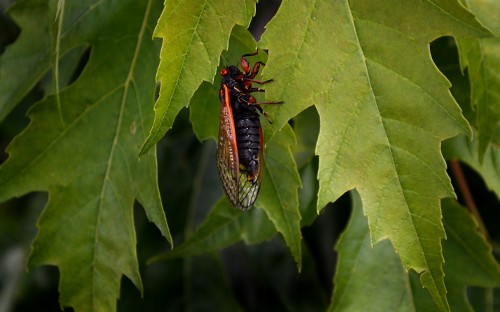 An Associated Press story quoted Rob Lawrence, a forest entomologist for the Missouri Department of Conservation, as saying that this is the only time in this century that the two sets of insects will appear at the same time. After this visit, it'll be another 221 years before they show up together again.
I'm going to trust the experts who say that broods can contain as many as 10,000 to 1.5 million cicadas per acre. I tried to do a count, but couldn't decide if I was counting 100 different insects or one bug 100 times.
As loud as a lawnmower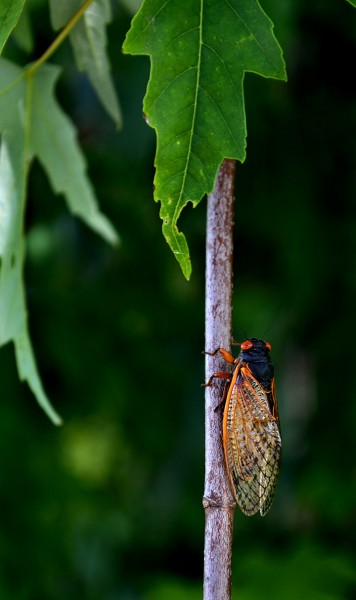 Road Warriorette Shari and I spotted these guys in the treeline bordering the Mississippi River bank in the ghost town of Seventy-Six. The insects are harmless to humans, but they can startle you if you don't know what they are. They were as plentiful as bees flitting around a rose garden.
The noise is made by the males trying to attract the attention of potential mates. The chorus can reach 90 decibels, as loud as a lawnmower.