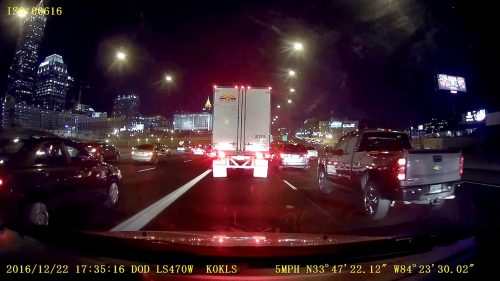 I figured I'd better get this posted before another Christmas rolls around. (It was supposed to go up before 2016 went to sleep, but the software didn't want to upload the pix). I normally take two to 2-1/2 days to make it from Cape to West Palm Beach, a distance of 1,110 miles, no matter which route I take. I had the traffic day from hell going through Chattanooga and Nashville. I spent almost all day making less than 200 miles. Even Atlanta, caught at rush hour in the dashcam photo above, only took an hour to clear.
That put me at Son Matt's house just in time to chow down on Christmas Eve with Sarah, Malcolm and Wife Lila. I was too tired and too busy eating to take pictures of the festivities there.
Christmas at Kid II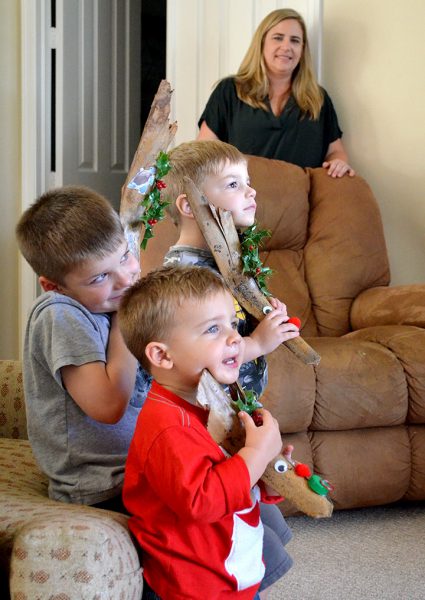 Christmas Day found us out at Son Adam and Carly's watching Grandsons Graham, Elliot and Finn playing with Santa's leavings. Wife Lila had made each of the boys a unique Christmas ornament out of palm fronds from the yard, and she wanted to get a shot of the three of them holding them.
Since she had that angle covered, I shot what it was like to herd mischievous cats.
Boys can make blasters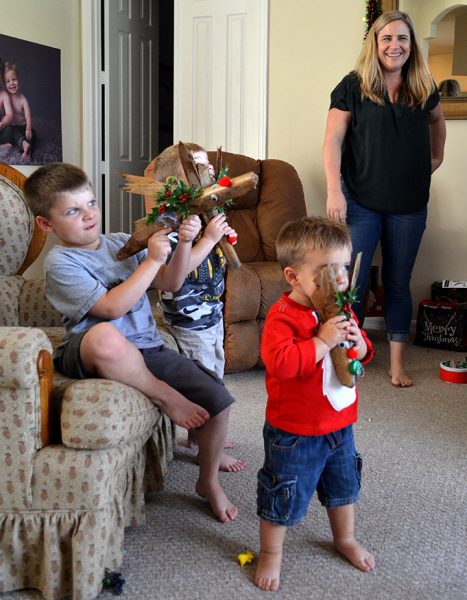 This goes to prove that boys can make blasters out of anything, not exactly the Christmas spirit image Gran had in mind.
True confession time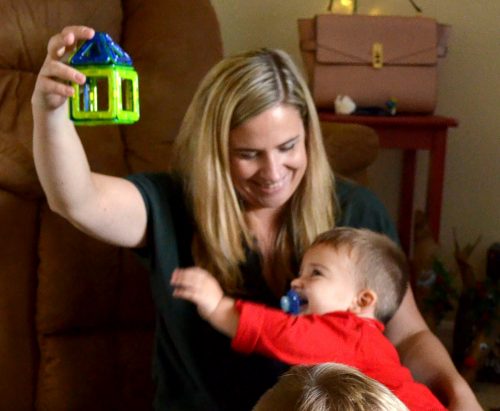 I make a tiny percentage when you shop on Amazon after pressing the Big Red Button at the top of the page. I try to shop locally, but I find myself hitting the Red Button on a regular basis. Since I rely on reviews to make purchasing decisions, I feel it only fair to review stuff I've bought.
Have you ever read a review where somebody confesses that they received the item for free or at a discount? Well, I must have written enough reviews that vendors are starting to send me discount and free offers to review their stuff. One of the items was a set of Maggift 30 Pcs Magnetic building blocks.
That sounded like a great stocking stuffer, particularly for free. The older boys were too into their battery-powered toys to be excited by this, and Finn was initially more interested in destroying things his mother made with the blocks than making things himself.
Hey, these things go together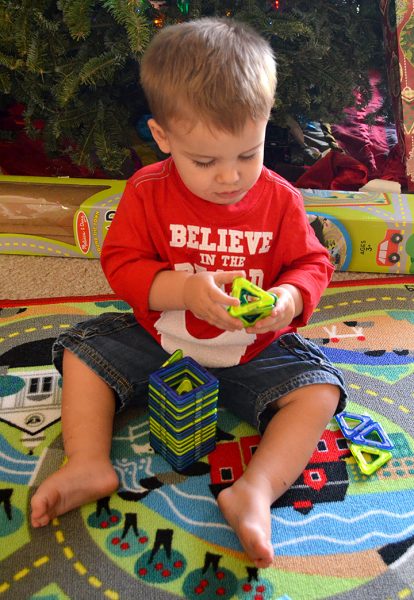 It didn't take him long to discover the magnets made it easy to stack the pieces together by shape. The box says ages 3+ but Finn, who is half that, found them fascinating. They look too big to be a choking hazard, and the magnets are affixed well enough that I don't think they would break off.
A quiet moment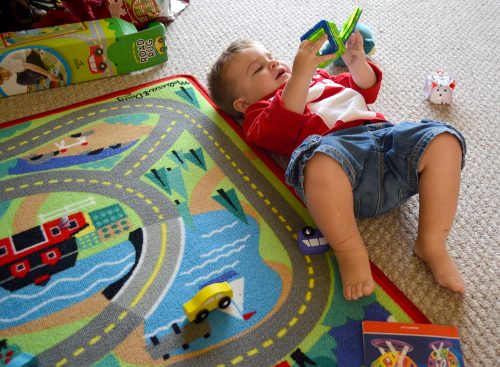 Any toy that will keep an active toddler occupied and quiet is a good toy. I'll end up filing a 4 out of 5 star rating for it. A four because the product arrived on time and was as described. Something has to really knock my socks off to get five stars, something I point out to vendors before I agree to review it.
Y'all have a happy and prosperous 2017.