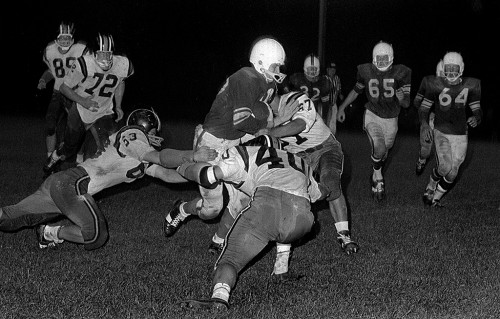 The Valle High Warriors of Ste. Genevieve had a 10-0 season in 1966, winning some games by 40 points. They got spanked 21-0 in their 1967 season opener against the Cape Central Tigers. You can read all the details in this September 9, 1967 Missourian story.
The caption under this photo read "Defense, Defense, Defense! Valle High's Jerry Scherer (dark jersey) finds the going tough against Cape Central defenders. Linebackers Ken Kirk (63) and Kim Godwin (40) give a helping hand to lineman Terry Rhymer (67); defensive end John Rusesler and tackle Dawson Young (72) are moving in rapidly. Four and five Central defenders were in on every play, as the Tigers defeated the Warriors, 21-0."
Photo gallery of Central – Valle High game
Click on any photo to make it larger, then click on the left or right side of the image to move through the gallery.