Howard's Athletic Goods – October 2009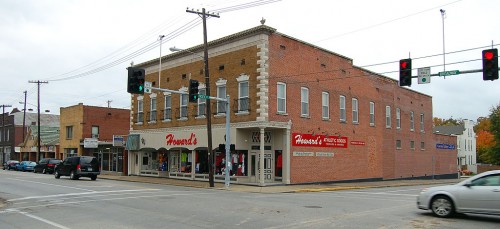 Howard's Athletic Goods, which provided school PE uniforms and other sporting equipment to the community since 1947, moved diagonally across the Broadway – Pacific intersection in 2009. The original Howard's building was torn down for Southeast Missouri University parking.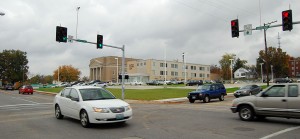 I didn't really have many warm and fuzzy feelings about the old Howard's building. I always thought it was a bit ugly and run-down looking.
Of course, it may also be that I never got over the trauma of having my Mother accompany me there to buy my first jockstrap for Central High School's Physical Education class.
At least the boys got black shorts and orange / black reversible shirts that were better looking than those horrible green uniforms the girls had to wear. (I think the shirts were reversible or was the black side mold from when I forgot to take it out of my locker to have it washed?)
Howard's may be there now, and other things have occupied that corner over the years, but the building at 835 Broadway will always be Vandeven's to me.
Vandeven Mercantile Company 1894 – 1969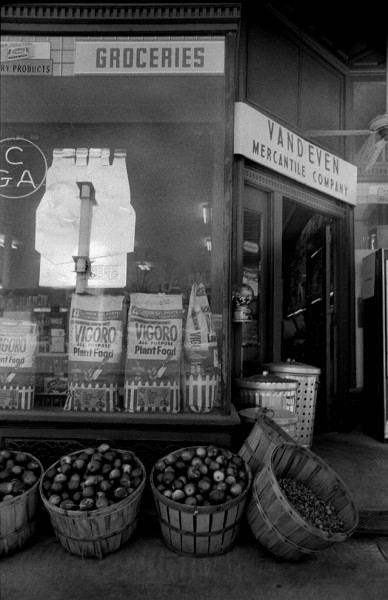 The building at 835 Broadway where Howard's relocated was the original Vandeven Mercantile Company, founded in 1894 an operated until 1969.
Over the years since 1969, it's been a number of different businesses. It was Craftsman Office Supply Co. long enough for The Missourian to call it the Craftsman Building.
The Grace Cafe moved in 2002. They had great sandwiches and fast Internet connections. I'd gravitate there to connect with my office at faster than dial-up speeds when I was in town on vacation. The upstairs was an art gallery.
I ate at Wayne's Grill almost every day when I was a kid
My folks gave me permission to leave the Trinity Lutheran School grounds almost every day to walk up to Wayne's Grill across from Vandeven's. I'll cover them in a later post.
On my way back, I'd stop in at Vandeven's to pick up candy to resell to kids who couldn't leave the campus and to kill time before going back to school.
Miss Blanche Brooks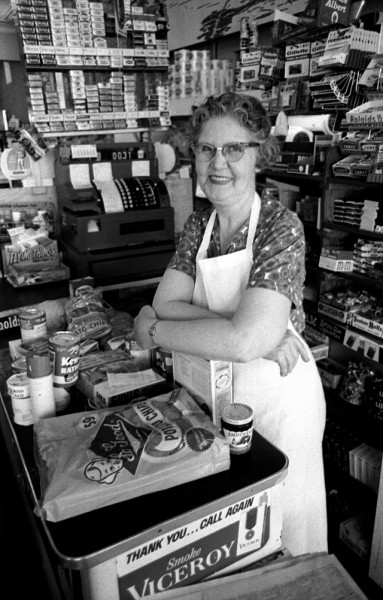 My favorite person in the whole store was Miss Blanche Brooks. She had already been working in the store for more than a quarter century when I was a kid. There was another woman working the register, too, but Blanche was the one who would talk to a 10 or 12-year-old kid like his opinions mattered.
She may have even given me permission to call her by her first name. I don't ever recall prefacing "Blanche" with Miss, and I didn't know her last name until I did this research.
When a customer would come up to the register, I'd fade away until Blanche had tallied the order one item at a time on a big cash register. This was not a place where you would find a scanner or an electrical conveyor belt.
It also wasn't a place where customers were rushed away. I got the feeling that a lot of the folks saw Vandeven's as a social center where they could catch up on neighborhood gossip.
Skeets wrote the store's obit
Cecelia "Skeets" Sonderman wrote a great obituary of the store when it was going to close April 5, 1969.
(Skeets, by the way, was a feisty broad (meant as a compliment), who covered government, education and courts in the days when women were usually relegated to the Pink Ghetto of tea parties and church news. Men who demeaned, patronized or underestimated the diminutive Skeets were apt to be found singing soprano in the church choir after Skeets was finished with them.)
Thanks for Google's News Archive Search, you can read it straight off the microfilm.
Customer service was hallmark of Vandeven's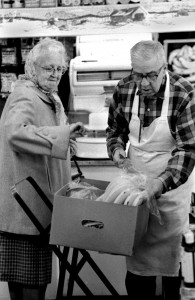 The Missourian article said that the three owners, William Vandeven II, Edwin Vandeven and their sister, Elma A. Haas, were all born on the second floor above the family store.
Three employees, including Blanche, had been with the store for years, Skeets wrote. Blaine Swan had been there 43 years (in 1969); Charles Stimle had been there for 35 years. I imagine some of the photos in the gallery show those employees.
Elderly customers depended on Vandeven's unique special services in the days before direct deposit of Social Security and pension checks. Vandeven's would send delivery boys with cash to a customer's home to cash his or her Social Security check. If a long-time customer wasn't home when the delivery boy arrived, he would enter the home and place the perishables in the refrigerator.
You could buy almost anything at Vandeven's
They had the usual range of groceries, but they also had their own butcher on premise. You could watch him wrestle slabs of meat and get exactly the cut you wanted.
Vandeven's was said to be the first store to offer frozen foods.
At one time, shoes made up the bulk of sales. I can still remember seeing old-fashioned rubber galoshes on the shelves.
If they didn't have it, you probably didn't need it
Even before you stepped over the wooden door sill that was worn down from generations of foot traffic, you could get a sense of the wide variety of products available.
Bushel baskets of apples
Garbage cans
Vigoro Plant Food
Dairy products
Bakery products
Gumball machine and soft drink machine
Got a hankering for notions?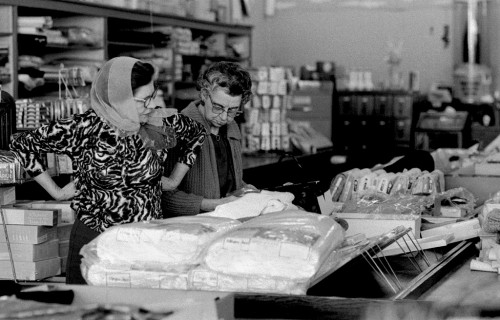 Nearly half the store was made up of material, sewing supplies, patterns and the like.
Gallery of photos
Here is a gallery of photos of the new Howard's, the parking lot where the old Howard's was and pictures that I hope will bring back memories of the Vandeven Mercantile Company. The Vandeven's photos were taken February 4, 1967, when I must have stepped in for a visit. Click on any image to make it larger, then click on the left or ride side of the picture to step through the gallery.