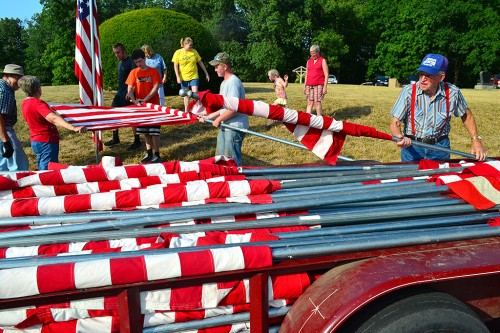 I promised myself that I wasn't going to do another North County Park flag picture, even if it was the Fourth of July.
Then, on my way back from Perry County at the tailend of the afternoon, I saw the flags were coming down. I knew, of course, that somebody had to put them up at dawn and taken them down before dusk, but knowing something isn't the same as seeing it.
Controlled chaos: no conking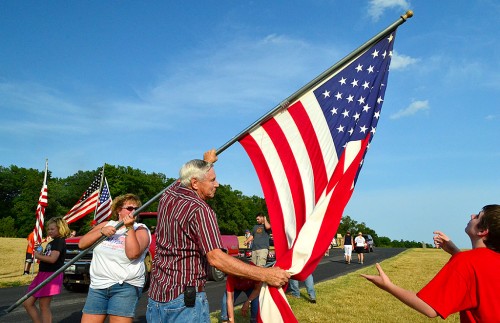 Volunteer Jerry Hampton said most of the work was being done by VFW Post 3838, members of Boy Scout Troop 5 and folks from the Delta 1st Baptist Church. If I missed anyone, I apologize.
The workers acted in controlled chaos. Despite flag poles whirling and spinning all around, I didn't see anyone conked or speared. They teamed up to handle the flags respectfully and to make sure they never touched the ground.
These flags are special
Those of us who visit the parks and appreciate the beauty of the flags flowing in the wind need to keep some things in mindL
Volunteers work hard when it's cold and when it's hot to put the flags up and to take them down.
Families donate the flags to honor their relatives who were in the service.
Each flag once covered the casket of someone who served to protect our freedoms.
Other stories about the display
Flag display gallery
Click on any photo to see a larger photo of these hard-working volunteers, then click on the left or right side of the image to move through the gallery.