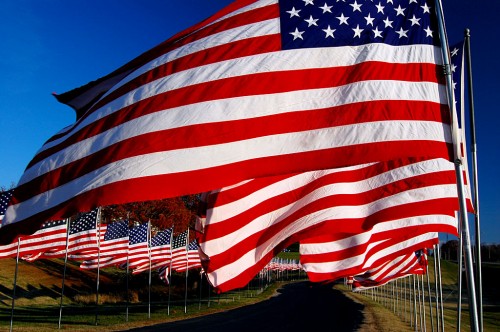 Mother suggested we swing by North County Park to see the flag display on the way to run some errands. I have to admit that I wasn't all that crazy about doing it because I shot it Veterans Day 2010.
Here's something I learned at my third newspaper: Things are going to keep coming around like clockwork. When you shoot an event the first time, it's exciting. Well, maybe not exciting, but interesting. When the anniversary of that event comes around the next year, you have to scratch to drum up some enthusiasm for it. Just before the third iteration of it came around, I found myself gathering up my portfolio and sending out resumes. There was always a little cog in my head that would click when I recognized it was time to head out to a new newspaper.
Finally, by the time I got to The Palm Beach Post, I figured out that all newspapers were screwed up and, when you find one that's a little less screwed up than most, you should stay. When I was coming up on my magic three-year anniversary at The Post, they made me department head, so I could send other photographers out to shoot that recurring assignment.
Headed off to active duty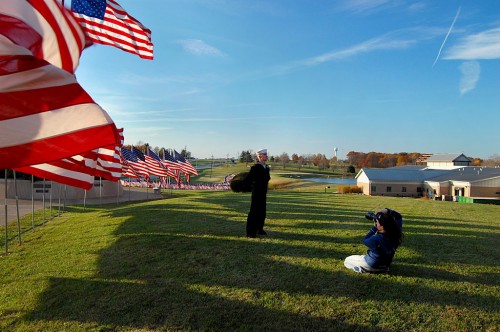 So, anyway, we ended up at the park. Even though I had been there, done that, it's such a moving spectacle, particularly on a windy day, that I had to get the camera out. There was a photographer and a young couple dressed in Navy duds blocking traffic while she was taking their photo. When I say "young," I mean young enough that they looked like they should be playing with plastic boats in the bathtub, not going off to active duty, which is where they were headed.
It's considered bad form to horn in on another photographer's shoot, so I took this from a discrete distance and then left them alone.
Just back from Afghanistan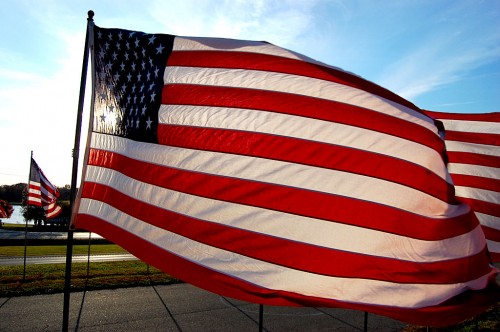 When I got out of the car, a young guy wearing a black Airborne T-shirt had just taken some photos and was walking back to his car.
"Sure is purty, ain't it," I said in passing.
"It is to me," he said. "I just got back from Afghanistan."
All I had time to say before he disappeared was, "Thank you for your service."
Missourian blogger James Baughn beat me to the story this morning, but I can't improve on his headline, "Blog without words: Veterans Day flag display at Cape County Park North."
More flag photos
Be warned: if I'm in Cape next year at this time, I'm either going to have to get my portfolio ready to mail or I'm going to have to skip going to North County Park. Click on any photo to make it larger, then click on the left or right side of the picture to move through the gallery.