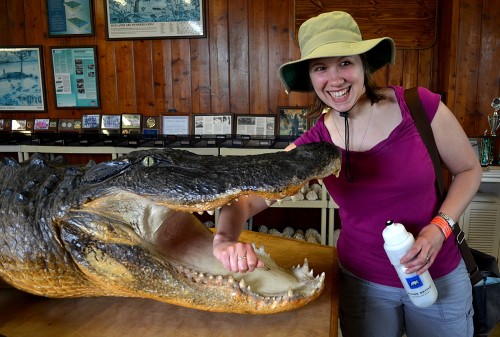 When you have visitors like Curator Jessica from Ohio, you can't send them back to the Midwest without having seen a gator or two.
Wife Lila and I have had good luck with the Loxahatchee Everglades Tours folks at the end of Loxahatchee Road (used to be known as Lox Road) on the Palm Beach – Broward County line, so I hauled our visitor down there at an unacceptably early hour by my standards. As it turned out, we were a couple of minutes late to make the first boat: the couple in front of us took the last two seats. We killed the time watching a gator swim through a pipe from one canal to another, visiting very clean restrooms and scoping out the displays.
Miz Jessica was willing to pose with a bobcat, the Ohio University team mascot, but she wouldn't stick her head in the mouth of even a stuffed alligator. There was a sign asking visitors not to touch the displays, so I couldn't try to convince her to lick the reptile like she did the St. Louis Arch.
Blue Heron having lunch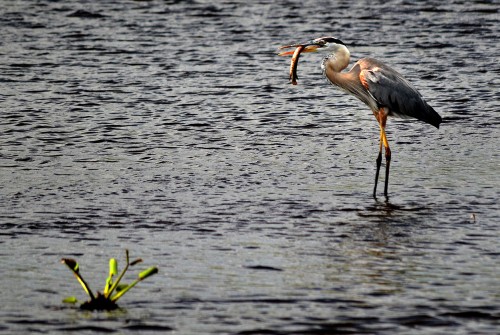 We had scarcely started the ride when we came upon a blue heron chowing down on a small gar. He flipped him around until he was headed down head first. When the boat got closer, the bird decided on having a to-go meal, and flew off with the fish sticking out of his mouth.
 Photo gallery of airboat ride
Here's a selection of what we saw on our airboat ride. Click on any photo to make it larger, then use your arrow keys to move through the gallery.