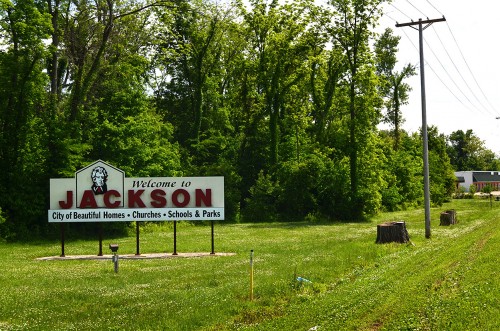 Almost every time I head out of Jackson from Wib's BBQ headed toward Fruitland, I notice some big stumps on the south side of Hwy 61 near the Welcome to Jackson sign. And, every time I've muttered to myself, "One of these days I'm going to have to stop and shoot those things."
The odds are pretty good you won't see them on the way INTO Jackson like in this photo because they're down the embankment.
Massive stumps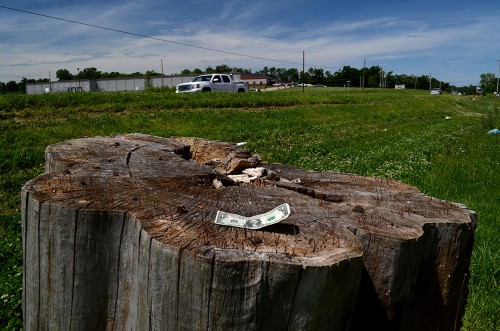 I finally got around to stopping.
To give you an idea how big these trees were, I put a dollar bill in the photo for scale. A bill is six inches wide, so the top of the stump is three feet or more across. It has to be at least 10 feet around. (Click on the photo to make it larger.)
What have these trees seen?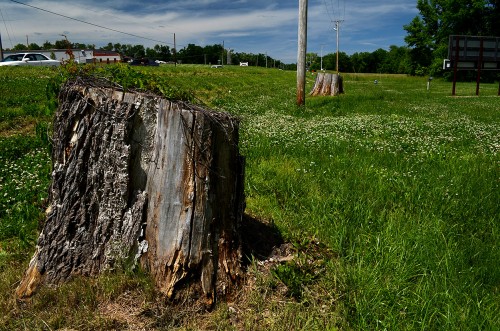 Wikipedia reports that the first post office in Jackson was established in 1814 when the area was called Birdstown. Old McKendree Chapel, the log cabin that is the oldest Protestant church standing west of the Mississippi River, was built in 1819.
I didn't even try to count the rings to see how old the trees are (that's a math thing), but I wonder if they were standing that long ago? Anyone want to guess what kind of tree they were and how old they might be?