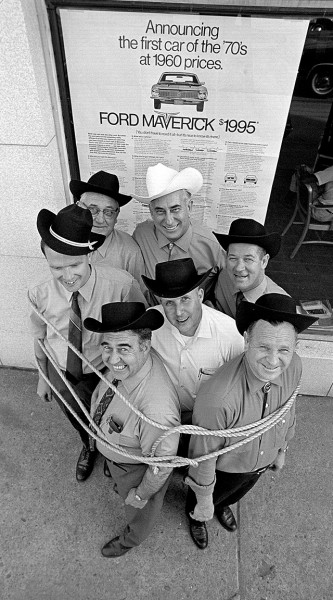 These guys were ready to sell you 'the first car of the 1970s at 1960 prices." Step right up and drive off with a Ford Maverick for $1995. There's an asterisk after the $1995, so that's probably where they tell you that the tires, engine, steering wheel and seats are extra.
Are car salesmen born or made?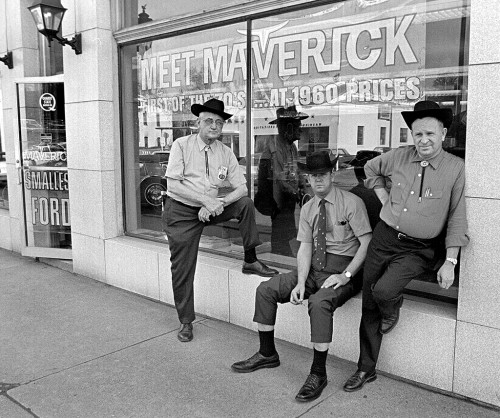 I hated shooting advertising photos. Partially because you ended up having to take hokey shots like this; partially because the next time you ran into them at a news event, they thought they still owned you. It gave me a great deal of pleasure to disabuse them of that idea.
These were taken for The Athens Messenger in April 1969. Based on the expression, these guys didn't seem to think there was anything unusual about pretending to be roped cowboys (I'm not sure I understand that symbolism). I guess they figured anything goes so long as they met their quota.
Cape car dealer ads
Here are some Cape car ads that ran in the 1956 Sesquicentennial booklet. I think one of the most curious slogans was in the Clark Buick ad: "We will deal until we deal." They must have offered a pretty good deal to get Dad to buy our 1959 Buick LaSabre station wagon from them. Whoever did the Goodwin Motor Co. ad didn't quite know the difference between the "roll" and the "role" of a Mercury-Lincoln dealer (it "is of ever increasing importance to Cape Girardeau").
If you want to read about the early days of automobiles in Cape, follow this link. Here's a piece on "Rusty" and Rueseler Chevrolet.
Click on any image to make it larger, then click the sides to move through the gallery.