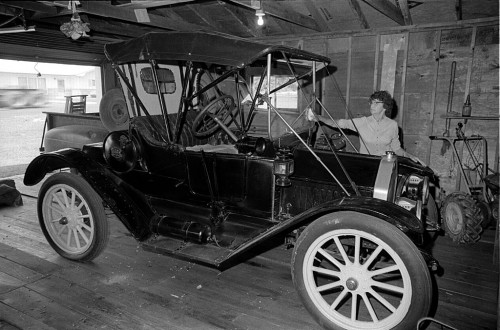 Everybody's heard about the vintage automobile that was put aside for whatever reason in some farmer's barn, to be long forgotten until decades later when it's found in mint condition by someone who knows its worth. I don't have any idea of this is such a car. I vaguely remember shooting it, but I couldn't find a story in September 1966 that went along with it. This looks more like an assignment than something I stumbled onto.
Maybe someone can identify the car and / or the woman in the pictures.
The automobile in Cape Girardeau
Here's a piece about Cape's early car history. Cape's first car hit the street in 1904, for example. Cape's first car theft happened a year later. A car ran over the first pedestrian on July 21, 1910; the next day, a car driven by R.B. Oliver, Jr., collided with a Western Union bicyclist. Cape hasn't been safe for cyclists or pedestrians since.
More mystery car photos
Click on any photo to make it larger, then click on the left or right side to move through the gallery. Happy hunting.
Some of you have been interested in how the photos were taken. It must have been fairly dark in the garage, so I used an electronic flash held at arms-length high and to the left to keep the harsh shadows from falling directly behind the subject. That give the subject more modeling than if the flash was bolted onto the camera.