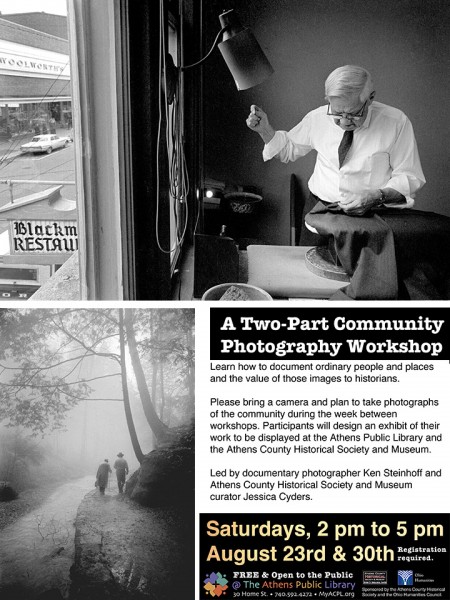 You've heard me talking about the Picturing the Past Workshop in Athens, Ohio, until you are probably tired of it, but here's a look at what our participants produced that is being exhibited at the Athens Public Library and the Athens County Historical Society Museum.
The first session was held on August 23. About two dozen people listened to me drone on for 2-1/2 hours, then Curator Jessica talked about historical photographs and their importance for about 30 minutes. Participants were asked to go into the community and shoot anything that interested them, with an emphasis on things that people in the future would be curious about.
"Office hours"
We held "office hours" on Tuesday and Thursday evenings so we could see what had been shot and offer suggestions. The goal was for them to come back with 10 shots they liked. We said they would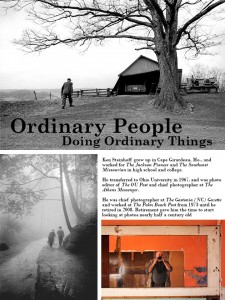 narrow those down to two for the final exhibit, and that the audience could nominate a third photo. On the first evening, I suggested to two women that they explore the town after dark and gave them a two-minute demonstration about how they could vary the exposures on their point-and-shoot cameras.
A larger group showed up for the second "office hours" and we had lively discussions about how and why a particular photo was taken. I hardly needed to be there. The participants gave each other great feedback.
On August 30, we had a three-hour slide show of the final selections. You'd have thought we were at a fireworks exhibit with all the audience "ohhhs" and "ahhhs." The group did a great job of commenting and critiquing the work. It was tough to boil the show down to 48 selections. Here are about half of them (in alphabetical order). I'm going to put up each photographer's work as a gallery. Click on the photos to make them larger, then use your arrow keys to move around.
We'll do the other half tomorrow to keep you from being overwhelmed.
Alex Westerfelt
Alex Westerfelt was one of the photographers who made good use of reflections. He thought his hand and camera were a distraction in the mirror, but I liked them. We had an ethical discussion about whether or not to remove some distracting water spots on the mirror. I told him I am a bit of a purist, but that I didn't have an issue with taking out the spots anymore than I would hesitate to take out dust spots on an old negative.
This artsy reflections photo started out as a horizontal, but we kept creeping in from the sides until it became a much cleaner vertical. For reasons I can't exactly explain, I liked the moment captured in the picture of the boy in the red shorts. The trees growing inside a building was taken in Shawnee, an old coal town I documented in 1969. It reminds me of Cairo, Illinois.
Angie Faller
I've seen a lot of ice bucket challenge photos in the last month, but I give Angie credit for shooting a nice sequence. She has the dump photo (with the cubes nicely stopped by the flash), the boy watching a video and a third picture of the ice on the ground. (I left that out because we had a limit on the number of photos. I didn't realize that I would turn it into a layout.)
She took a portrait of a vendor at a farmers' market and was captivated by a scale building at The Ridges, Athens' former insane asylum. She had some interesting shots of the interior, but we liked the light in this picture.
Brenda Ruth
If I had to pick an overall favorite as an image and a collection of cultural icons, it would be Brenda's photo of her granddaughter quilting. It's a super portrait and has a smart phone and a piece of exercise equipment in it.
She had at least three variations of this old building. We liked the wide, long shot because of the purple flowers and the barbed wire and fence wire that may not be around in the future.
I'm particularly happy with her night shots. She's one of the women who had never taken her point 'n' shoot out after dark. She was rightfully proud of how well her experiment turned out.
Carolyn Highland
Carolyn came in at the last minute on Saturday with an addition: a photo of her mother's roller skates. The picture meant a great deal to her because of the personal connection, and it was also a nice icon. I shot a similar picture of my skates (except that the wheels were wood in the old days.)
The portrait of the old man started out a lot "looser." We kept cropping in until it became much simpler and a lot more powerful. At one point, we homed in on his face, but decided to back out to include the wording on his shirt. The scenics are just plain nice.
 Marie Barone
One of the questions that kept coming up, particularly because of this photo of the kids playing in Nelsonville, was "do you have to ask permission to take someone's permission?" My overall contention is that "if I can see them, I can shoot them." If the situation is fleeting, I shoot first, then engage with the subject later. If your photo is used for advertising, then you DO need a release. You also can't hold someone up to public scorn or ridicule (unless they really deserve it).
When I was editing Marie's photos, the guy with a hat jumped out at me because I had seen it in the pictures submitted by another person. Not only was THIS guy in it, but the woman in polka dots and the woman in the dark glasses was there, too. Both shooters said it was a coincidence.
Marilyn Zwayer
I was really happy with the photos Marilyn took in the Ambassador Laundry. For some reason, she found herself doing laundry there instead of at home, so she decided to follow the lesson plan and shoot her surroundings. Some of the pictures aren't tack-sharp, and she was reluctant to let us use them, but we convinced her that she had captured a slice of life. I was particularly appreciative because I was in the same place the night before when I realized I had reached the critical UW – 0 stage in my suitcase.
Exhibit dates
The print workshop prints and some of mine will be on exhibit at the Athens Public Library until September 27. Additional photos will be at the Athens County Historical Society Museum until about October 1. There will be a reception at the library September 16 from 5:30 to 7 p.m. I hope the photographers will be there to see how their photos are received.