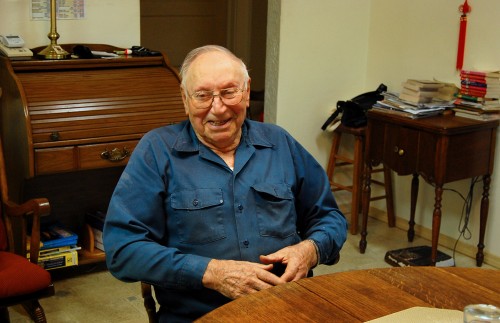 Wife Lila sent me a text the morning of March 2: "Just found out Ray is in MICU at St. Francis. The family has been called. I'm in tears."
Ray was Ray Seyer, her uncle, a man who was like a father to her.
The other shoe dropped Sunday night: "Uncle Ray died around 6:30. Marty [her sister] just let me know."
Formal obituary from the funeral home.
Raymond C. Seyer, 94, of Cape Girardeau, Missouri died Monday, March 7, 2016 at Saint Francis Medical Center. He was born January 13, 1922 in Advance, Missouri to Philip Jacob and Alvina Christina Dohogne Seyer.
He and Rose Mary Hoffman were married February 26, 1946 at St. Mary Church in Cape Girardeau. She preceded him in death October 31, 2015.
Raymond served in the Navy during World War II. He was an auto mechanic and instructor at the Vocational School.
Member of the Knights of Columbus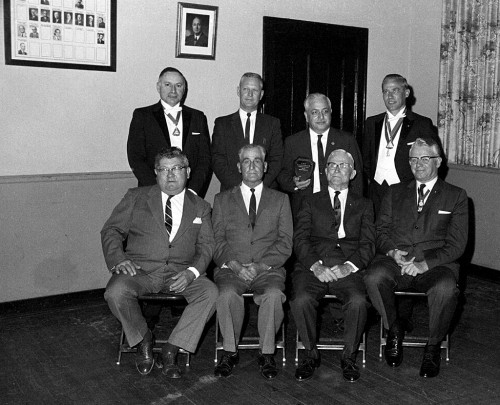 He was a member of St. Mary Cathedral, Knights of Columbus Council 1111 in which he was a past Grand Knight and Thomas A. Langen Assembly, Fourth Degree in which he was a former Faithful Navigator. He was also a member of American Legion Post 63 and V.F.W. Post 3838.
Survivors include children, Michael (Brenda) Seyer and Dan (Mary) Seyer of Cape Girardeau, Diane (Ray) Staebel of Liberty Hill, Texas, Janette (Stephen) Bennett of Alexandria, Kentucky, Joyce (Dave) Bruenderman of Cape Girardeau, Linda (Bob) Garner of Jackson, Missouri, Ralph (Debbie) Seyer of Kirkland, Washington, and Steve Seyer of Saint Clair, Missouri; brothers, Lawrence (Ida) Seyer and Elmer (Susie) Seyer of Oran, Missouri; sister, Mary Woltering of Breese, Illinois; 27 grandchildren; 42 great-grandchildren.
He was preceded in death by his parents; wife; son, Timothy G. Seyer; brothers, Zeno, Albert, Paul, and Henry Seyer; sisters, Sr. Michaelette Seyer, Syvilla Sobba, and Sr. Mary Agnes Seyer; and grandchild, Wendy Seyer.
Lila remembers Uncle Ray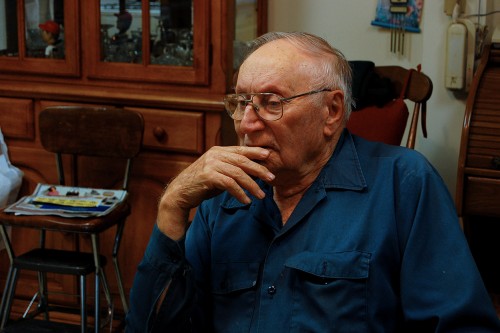 My Uncle Ray was generous, joyful (and gruff, when necessary) and always welcomed me when I went home to Cape. Last evening, Uncle Ray peacefully closed his eyes for the last time.
I never missed a chance to stop at Ray and Rose Mary's house when I was in Cape. My first memories of my uncle and aunt were as a 10-year-old child walking home from swimming lessons at Capaha pool. My brother, sister and I would stop in for a drink and a snack before walking the rest of the way home.
In later years, I was welcomed with a hug, a cup of tea ( or a glass wine, if Ray was showing off homemade someone gave him) and any number of good things that might be on the table. Then, he would begin the story of the day. He told good stories… and he laughed when he told them.
Ray and I talked gardens. He told me what kind of fertilizer to use and never to plant tomatoes and bell peppers in the same place. I would send him pictures of my garden, and he would save me green tomatoes and garlic when I came to Cape in the fall.
Ray and Rose Mary were a unit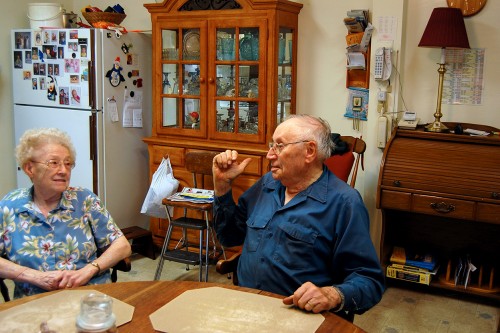 I always thought of Ray and Rose Mary as a unit… never one or the other. And now, with his passing, they are, again, perfectly paired. I know she was waiting for him with a smile. He closed his eyes for the last time, yesterday and opened them to gentle Rose Mary's face. They are together for eternity. I am sad and happy at the same time. I will miss them more than anyone could know.
Preserving his stories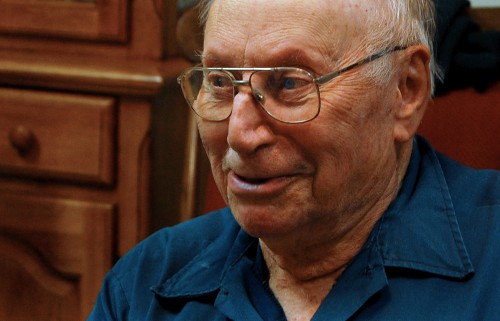 I stood for several minutes looking down at Ray at Ford and Sons Funeral Home. My eyes got misty and I had a hard time swallowing.
Something was wrong.
At first, I thought it might be because he was dressed in a suit. Some men aren't made for suits, even though I had seen Ray clean up nicely.
Then, it dawned on me.
I told a family member, "That's the longest I've ever been in that man's presence without hearing a good story."
You could tell when Ray was going to let loose with a good one by the way he'd get this half-grin with his lower lip pooched out just a little bit; then the crinkles would show up in the corners of his eyes. That's a sign of a man who has laughed well and often. (Click on the photos to make them larger.)
Recording his stories
In 2010, Lila, Mother, Rose Mary and I got together over at Ray's house south of the old Sunny Hill restaurant so I could videotape some of his stories. He and Mother grew up in the Advance and Tilsit area, so they tag-teamed a lot of tales.
Here are some of the stories and videos that came out of that session.