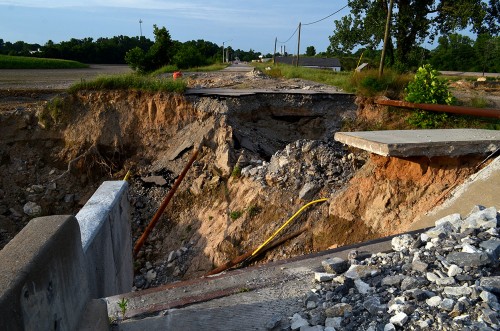 I always take a run down check out the cement plant quarry, but the trip takes a little longer now that Sprigg is closed at Cape LaCroix Creek due to a persistent sinkhole. In the 2011 flood, water under pressure from the river followed cracks and almost filled the quarry.
Sinkhole swallowed water lines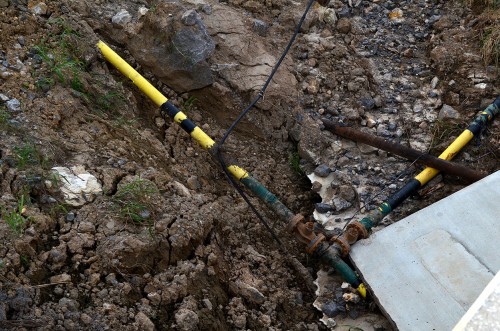 Mother Earth was hungry for Cape's infrastructure.
The Southeast Missourian had a story by Samantha Rinehart on August 18, 2015, that reported the Cape city council had approved allowing crews to begin the design and construction phase of building a bridge that will span the sinkhole area. The cost had lots of commas and zeroes.
Upstream dam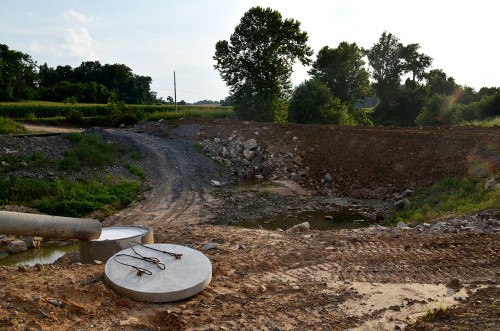 When I went there on July 19, I was surprised to see a dam upstream of the bridge to keep Cape LaCroix Creek from flowing into the sinkhole area. A fairly strong thunderstorm had moved through over the past couple of days, so I wondered where all that water had gone.
Dam to keep Mississippi out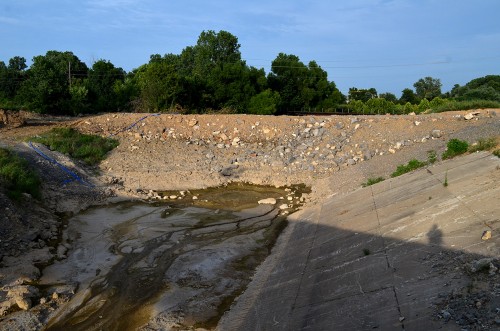 There was a corresponding dam on the other side to keep the flooding Mississippi out. I didn't have any desire to have my shoes sucked off wading through gumbo, so I elected to wait for a dryer day to explore.
Lohmann Fixture Company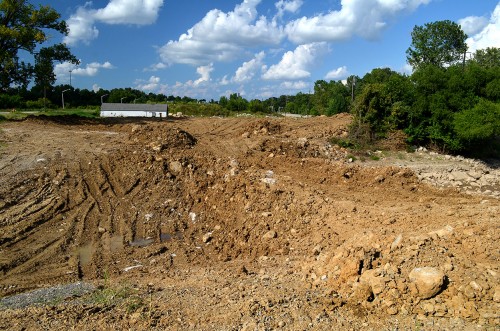 By August 17, it was dry enough to check out the Mississippi River dam. The white building sticking up in the background is the old Lohmann Fixture Company.
1929 railroad bridge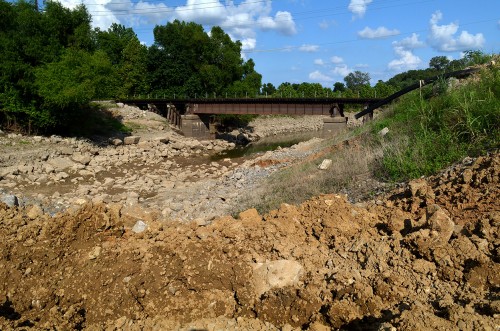 The river was back to its normal levels, so nothing was lapping up against it. The black pipe off to the right must have been how the water from upstream got past the sinkhole area. I have a hard time believing a 10 or 12-inch pipe could handle the volume of water dumped by the last rainstorm, but it must have. The railroad bridge in the photo was built in 1929.
No KKK and swastika in 2010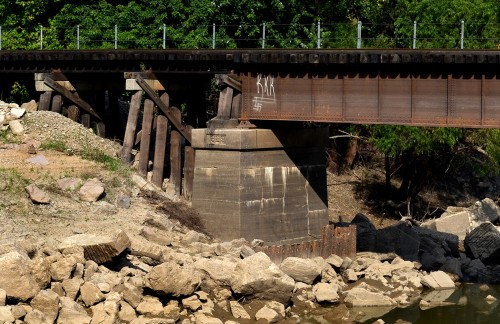 When I shot the 1929 railroad bridge in 2010, it didn't sport the KKK and swastika that it does here.