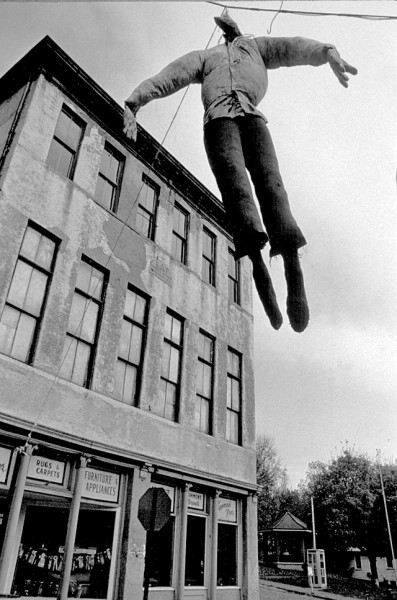 I saw Halloween decorations and costumes displayed in one of the big box stores tonight. Later, I was moving a bunch of old slides out of Kodak slide trays and putting them into plastic sleeves to save space when I ran across this copy slide of a print. The two events brought a story to mind.
What's that hanging in the tree?
I was blasting through the rural Southeastern back roads on my way back home right after dusk when, rounding a curve, my headlights picked up something odd on the side of the road. When I got to where the beams lit it up a little better, I slammed on my brakes. It was a body hanging in a tree out in the middle of nowhere.
Murder wasn't unheard of in that part of the country, but I hadn't read about any lynchings in our area in decades, so my first thought was a suicide. (All of the murders I had worked were pretty straight-forward; they just got the job done without getting creative.)
I positioned my car to where it lit up the area, then cautiously approached the scene. When I got close enough to get a flashlight on it, it became clear that I had been taken in by a dummy hanging in the tree. I looked around to see if there were any teenagers laughing at the sucker, but there was nobody around.
Only a journalist would have mixed emotions about this: happy because it wasn't a body; feeling foolish about being suckered in; being disappointed because he didn't break a story.
The next morning I mentioned my find to some of the guys in the office. "Oh, yeah," one said. "They've got a quaint custom in that area of hanging dummies at Halloween time. If you go back, I bet you find more."
Indeed, when I went back in the daylight, I found this guy hanging in the middle of downtown Shawnee.
"It's too grim"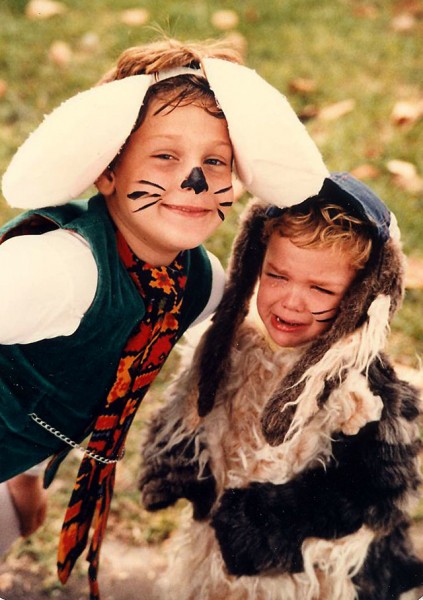 Wife Lila,  proofreader when I finish a post before she goes to bed, and general arbitrator of good  taste, said, "It's too grim. I didn't make any changes, but I didn't like it."
So, to lighten the mood, here are some examples of Halloween costumes she inflicted upon the kids over the years.
I'd be lion if I said Matt made a pretty woman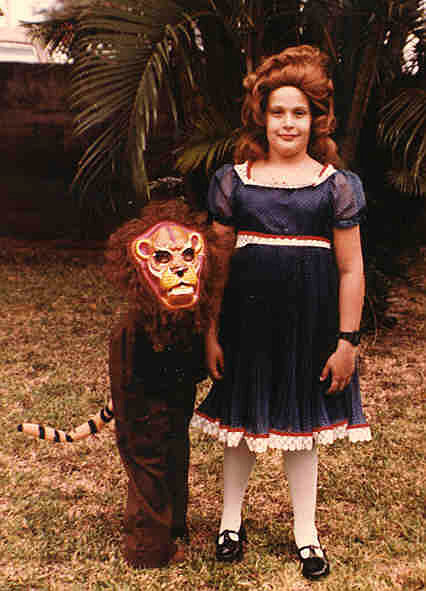 Son Adam, left, went for the full-face mask effect the year Wife Lila did this makeover on Son Matt.
I shouldn't mock Son Matt too much. Mother managed to make me into such a convincing girl that I won a prize in Mrs. Kelpe's first grade class because nobody could guess who I was. I was still in costume when we went down to visit my grandmother in Advance. She had a bunch of club women over that afternoon and they were properly impressed with my transformation. Just to set the record straight, I scrawled "I BOY" on a piece of paper and kept showing it to them.
Going to the dogs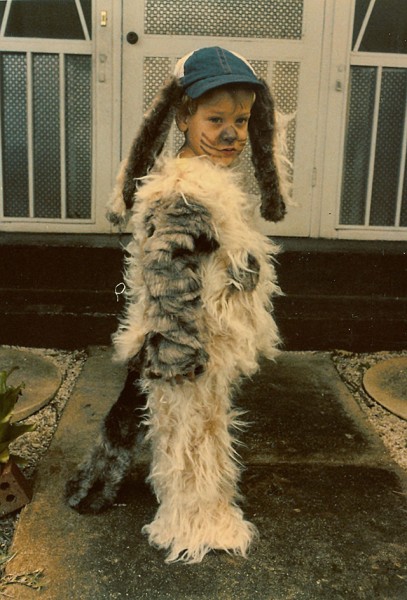 Both boys got a crack at the dog costume. This was Matt in 1978.
Matt as firefighter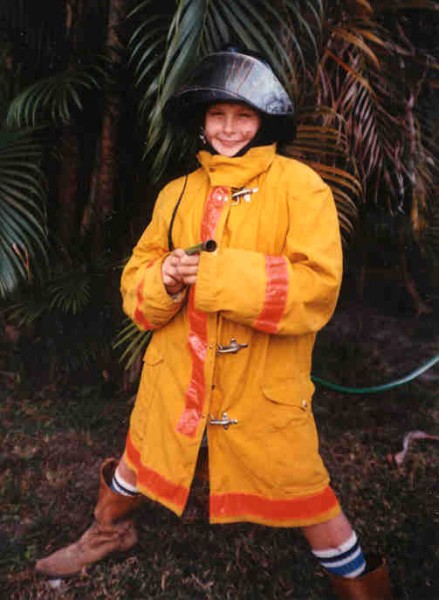 This might have been the only costume I contributed. Matt swiped my bunker coat, fire helmet and Red Wing boots for this Halloween.