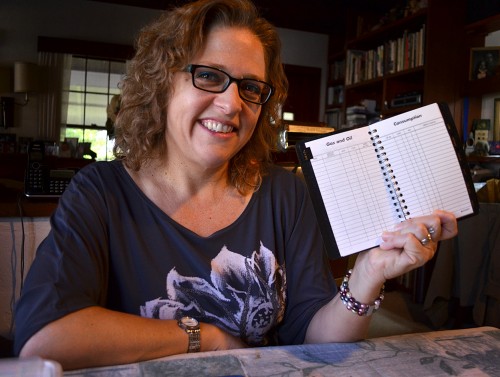 I've written before about how Dad was the consummate record keeper who would produce handmade pocket journals where he would jot down notes of the day's happenings and document every penny he spent.
I got an email from Son Matt asking if I had a blank mileage log book because Wife Sarah had filled her's up. I usually keep a couple in the bottom of my sock drawer for such an emergency. When she came by to pick it up, I expressed some degree of surprise because right after they got married, Matt tried to get her to keep car records, but she resisted.
Finally, she admitted, they bought her a new car and she gave up. "Steinhoff me," she told Matt. She wasn't sure if this her third or fourth book in 14 years.
Click on the photos to make them larger.
Dad rubbed off on me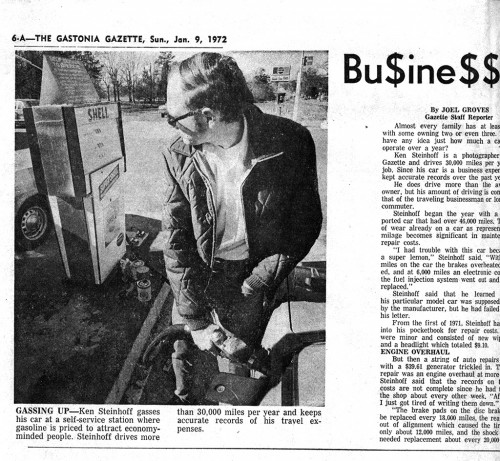 I'm not sure at what age I started keeping a mileage and expense log in my car, but I know I was doing it by the time I moved to Athens, Ohio. I definitely was doing it by the time we moved to Gastonia, N.C.
Gastonia Gazette reporter Joel Groves must have been sucking air for a story in the doldrums right after the holidays because he interviewed me for a piece on driving expenses. I notice in the photo that I not only kept records like Dad, but I was beginning to emulate his hairstyle. That's a serious comb-over starting to happen. I didn't realize until just now that my part had slipped to just above my ear.
Sure would like those prices today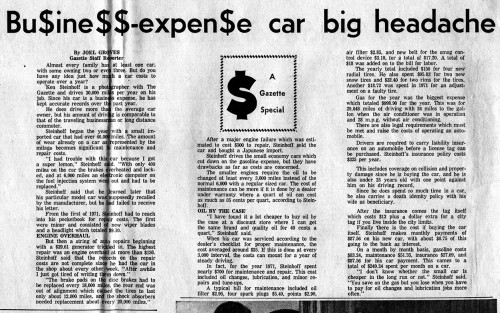 The story pointed out that I used my car for business, so I had to keep careful records for tax time. When the story was published on Jan. 9, 1972, I was driving about 30,000 miles a year, most of it chasing photos. Here are some of my expenses:
New wiper blades and a headlight – $9.10.
Quart of oil – 85 cents per quart (40 cents if bought by the case)
Generator – $39.61
Typical maintenance – oil filter, $2.95; four spark plugs, $5.40; points, $2.90; air filter, $2.85; new belt, $3.10; labor, $18.
Four radial tires – $150
Two snow tires and two tire rims for them (for ease in swapping tires) – $95.83 plus $32.40.
Fuel – $998.90 (24 mpg with AC, 28 without AC)
All told, including car payment, insurance, tag and expenses, I spent about $249.24 a month on my car.