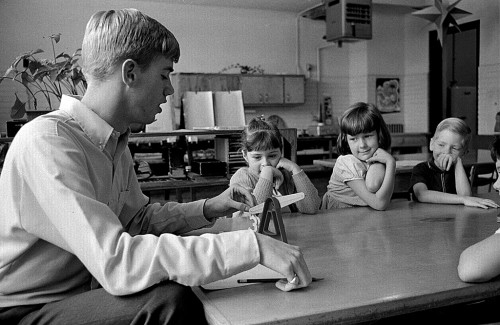 Tucker Lamkin, left, was featured on the May 6, 1967, Missourian Youth Page, in a story by Margaret Randol headlined, "Kindergarten Class Has a Unique Helper (She's a He!)"
Tucker, son of Mr. and Mrs. J.T. Lamkin, 702 North street, was the first male to participate in Central High School's kindergarten aid program.
[Editor's note: The story referred to Tucker as an "aid,"which didn't feel right to me, so I checked an online reference which said, " In American English, a personal assistant is usually an aide (nurse's aide, presidential aide) but an inanimate object or process is always an aid (hearing aid, first aid)."  I actually SAW Tucker move, so I can attest that he was NOT an "inanimate object," and was an aide. I didn't write the original story, but I probably edited it and should have caught it 43 years ago. It's probably too late to run a correction.]
Signs of acceptance
I've discovered over the years that there are two steps that have to be taken before a minority group can be said to be integrated into a larger group.
Step 1: You do "First" person stories:
First woman firefighter
First black firefighter
First woman construction worker
First Hispanic Representative
First gay mayor (Get the idea?)
Step 2: (and more importantly) The LAST time you do one of those "First" person stories. That's when it stops being unusual to see that group as news.
Little girls want to marry him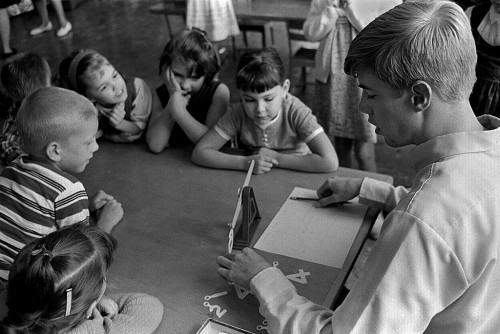 Margaret did a good job on the story. There are lots of funny quotes:
"Isn't he handsome?"
"I'm going to marry him when I grow up."
"No, you aren't. He's going to marry me. Maybe he'll even let me ring the bell when it's time to go in."
It's worth following this link to read the whole story about Tucker's Adventures in Kindergarten.
Uncharacteristically, the children in the photo with Tucker aren't identified. I'm pretty sure jBlue chewed me out for that.