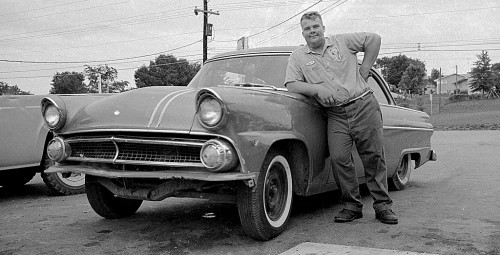 Here's a roll of film that has been abused, but I'm intrigued enough by the fellow in the picture that I decided to toss it out here to see if anyone knows him, the car or which Shell station it was taken at. I don't recall what else was on the film, but these looked like random photos taken for no particular reason. There's no date on the film, either.
Mystery Shell station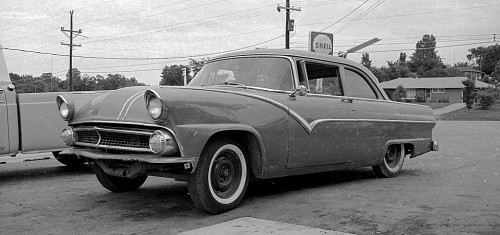 Here's a better shot of the car and the neighborhood. The car's body isn't really that ragged. The negative has all kinds of junk on it and I didn't want to spend the time trying to touch it up.
I was probably the only male of my generation never acquired the ability (or the desire) to tell one car from another. Well, that's not exactly true. I know this ISN'T a 1959 Buick LaSabre station wagon, because I had one of those. And it's not a VW. After that, I'm hopelessly lost. I see an ornament that says it's a V8, for what that's worth.