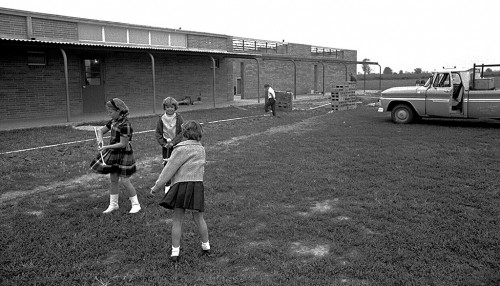 These photos of what appears to be an elementary school under construction were shot June 24, 1966, if I can believe the negative sleeve. Unfortunately, that's all I know about them. I looked at the Google Archives around that date and didn't see anything that looked like these pictures.
There's some printing on the pickup truck on the right, but I couldn't get it clear enough to read. It looks like a gym or stage has been pressed into classroom use in one of the photos. For some reason, the location has the feel of Advance to it, but I can't tell you why I think that.
UPDATE – School Identified
I ran across a September 23, 1966, Missourian clip that clears up the mystery. It WAS the Advance Elementary School. The photo caption read, "Pupils at the Advance Elementary School are anxiously awaiting the completion of a two-room addition to the present building. Particularly interested are the kindergarten children who are now holding classes on the school stage. Only a curtain separates the make-shift kindergarten room from the multi-purpose room which is used as a cafeteria, band and music room. Mrs. Grace Williams, kindergarten teacher, has 30 children in her morning class and 26 in the afternoon. Mitchell Wills, principal, said no tax was needed to build the addition."
Mystery school photo gallery
Click on any photo to make it larger, then click on the left or right side of the image to move through the gallery.