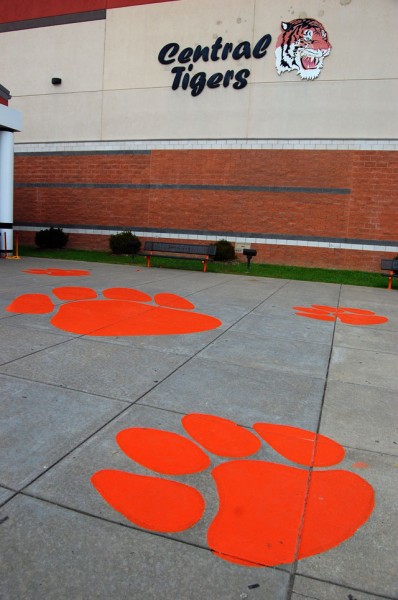 When I was in Cape this fall, I made a run out to the new Central High School. It's not exactly on the beaten path. I had to pull out my GPS to find it. It's a far cry from a neighborhood school where a good percentage of the students live within walking distance.
I didn't spend too much time there. I popped in long enough to shoot something specific for a piece I'll be running in the future.
Phil Ochs came to mind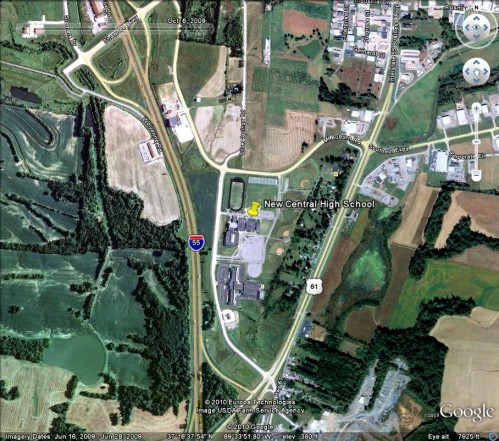 The place is so spread out that a line from Phil Ochs' I'm Going to Say It Now popped into my mind, "To get around this campus, why you almost need a plane." It takes an aerial to get a good overall photo of the place. (I would have created this using Google Maps so you could pan and zoom into it, but the most recent photos there had a big cloud obscuring the school.)
School cornerstone says 2002
I think this might have been the cafeteria.
The school's cornerstone is dated 2002, so I guess it's only us old farts who think of it as the "New" Central High School, much like the students who went to the Central High School on Pacific Street probably still call our school on Caruthers "New" Central.
Wonder if we could tour "Our" Central?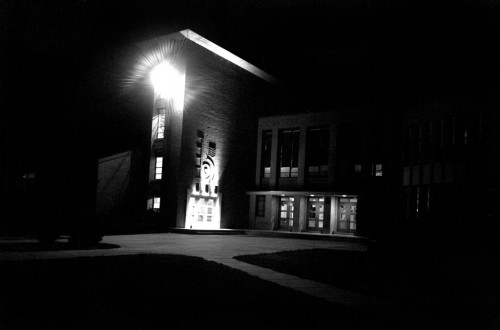 The reunion organizers have scheduled a tour of the new school, but to be honest, I'd rather prowl the halls of the building that houses OUR past. Wonder if it could be arranged?
I spent the better part of a day in the "Old" Central High School on Caruthers and a couple of days in the the Central High School on Pacific. I'll be posting those pictures before too long.
It was astounding how well maintained Central was. The halls and walls were shiny and clean.