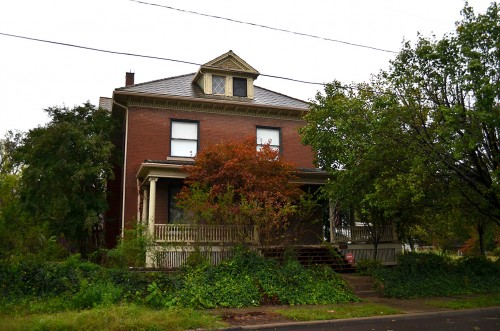 When I took a mugshot of this house at 300 Good Hope Street, I did it "just because" it might not be there the next time I get to Cape. It never dawned on me there was an interesting twist to the tale of the building.
A search of The Missourian archives turned up a couple of dry briefs about Mr. and Mrs. Wm. Taveggia going here or there or having visitors from out of town in the mid-1930s. In 1940, Mrs. Hugo Lang, Jr., of that address underwent an emergency appendectomy at Southeast Missouri Hospital.
Robert Felix Wichterich and Elma Taylor House
A Google search was more productive. It turned up a National Register of Historic places form that has more architectural detail than you can shake a paint stirrer at. Follow the link if that's your thing.
I like the human story better.
House incorparated "modern" conveniences
Dr. Robert Wichterich married Elma Taylor, daughter of J. W. Taylor, in 1902. Four years later the Cape Girardeau Democrat reported that Dr. Wichterich was having a new family dwelling (the present house) built on Good Hope Street.
The extent of Mrs. Wichterich's input into the design is unknown, but the house certainly incorporates conveniences that a wife (or husband) of the period would be likely to appreciate. The servant's room with a separate back staircase was to be expected in a house for the well-to-do, but the functional step-saving kitchen, accessible laundry areas beyond the public rooms, modern heating, plumbing and electrical systems and other amenities added up to a relatively progressive early 20th century house.
An explosive departure
Nonetheless, after sixteen years of marriage, Mrs. Wichterich found reasons to leave both hearth and husband; greater freedom for women was another aspect of the Progressive Era that championed Colonial Revival architecture.
Before vacating her progressive new house in 1918, however, according to local history, Mrs. Wichterich stoked the boiler and opened the valves on the shiny gold radiators to the maximum, eventually causing a blast that deposited sections of the plaster ceiling in soggy clumps.
About a year after his wife's rather dramatic exit, Dr. Wichterich became ill and died at his medical office.
Hugo A. Lang and his wife Anna bought the house from Dr. Wichterich a few months after his wife left. The property remained in the Lang family until the death of Hugo A. Lang, Jr., in 1993.
Things you don't expect to find
I love stories that uncover human foibles. just like discovering that Cape's most notorious house of ill repute was located across the street from the police station.
Shameless plug department
We're getting into the season when folks are thinking about buying gifts. There's a tiny yellow button at the top of the page that will allow you to make a donation to the site. You don't even have to put a bow on it.
It's a painless way for you to help me keep the computer running and the gas tank filled to bring you these stories.