I see what looks like car juice on the street, sidewalk and lawn in front of a sign that's taking a nap in front of the Evangelical United Church of Christ at the corner of Merriwether and South Ellis. Based on other photos in the envelope, I'm going to guess these wreck pictures were taken some time in September of 1966.
Evangelical United Church of Christ sign back up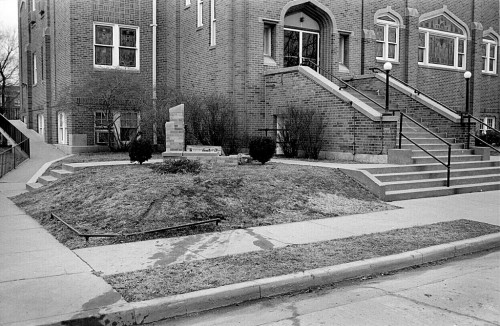 I checked out Google Earth this evening, it looked like the sign has been replaced.
When I called Cape this evening, Mother said, "Looks like you've been slacking off the last few days." I tried to explain to her that I've been working on a project that's kept me busy, so I've been reaching into the negative drawer for stuff that doesn't require a lot of research. It's tough when your own mother gives you a C-minus grade. I'm probably going to have to turn in some extra homework to bring up my grade.
By the way, if you've noticed something new at the top of the page – three rotating photos of Central High School cheerleaders, the CHS Alma Mater and something touting the Cape Central High Centennial, click on them and you'll be taken to a website with information about how you can order a quite nice book celebrating 100 years of Cape Central High School. I was going to have a story about the book and the high school's new library, but Mother was right: I WAS slacking off today. I took advantage of a perfect Florida afternoon to go bike riding with a couple of friends. I'll be pounding dusty erasers for a week for playing hooky.