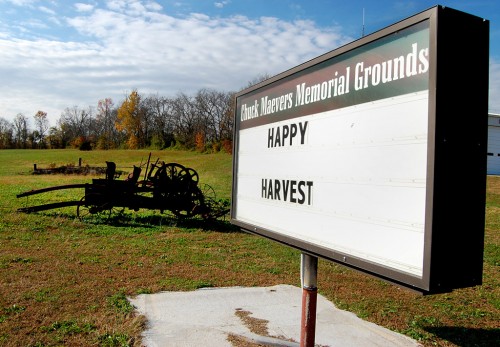 Mother and I were headed out Hwy 177 near Egypt Mills when I spotted some old farm equipment and a sign that said "Chuck Maevers Memorial Grounds."
"I wonder if that's where they used to hold the old steam threshing events?" I asked her. She wasn't sure.
So, I'll have to ask you folks: is this by any chance the old Earl Kirchhoff farm? I found some really neat shots of the Seventh Annual Cape County Steam Thresher and Old Settlers Reunion that was held on that farm on July 2, 1967. I'll run those tomorrow when I get a little more info.
Photo gallery of farm equipment
Here are the photos I shot Oct. 30, 2011. The 1967 shots are a lot more interesting. Click on any photo to make it larger, then click on the left or right side to move through the gallery.