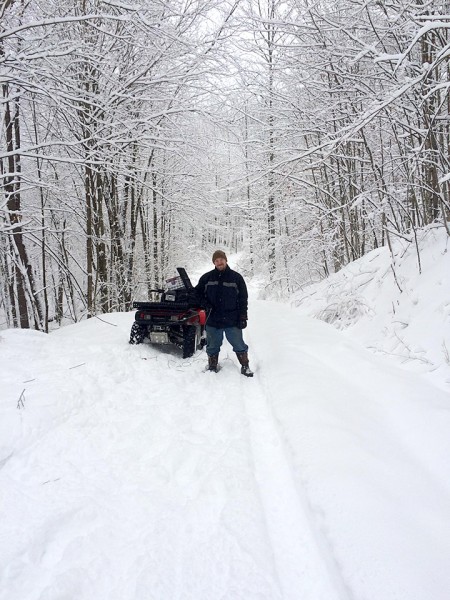 Jessica Cyders, curator of the Athens County Historical Society and Museum in Athens, Ohio, and her husband, T.J., live on the top of a tall hill in a rural part of Athens County, a place that practically defines "rural area."
How tall is the hill?
She texted this photo captioned, "TJ got the ATV stuck in the Ken Steinhoff Memorial Ditch. I just helped him pull it out with the winch. Snowshoes came in handy today."
Steeper than it looks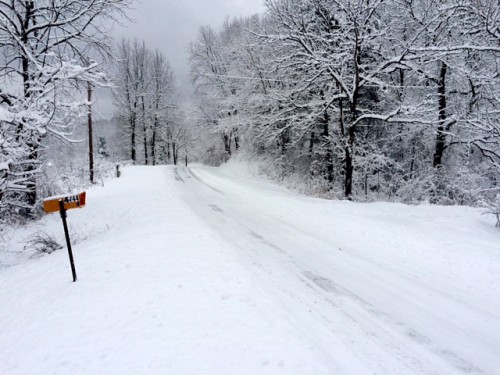 The last time she and I took a road trip from Cape to Athens, we rolled into town late to find her driveway covered with wet leaves. "I don't think you're going to be able to make it up it," she warned me.
I gunned the van. I mean, what does SHE know, she just lives there.
Just a little beyond where T.J. is standing, the road kicks up a few degrees. It was there that the traction control kicked in, then the wheels started spinning out. I conceded defeat and stomped on the brakes. The car started sliding back down the hill with all four wheels locked. I might as well have been on ice.
I booted her out to make it up to the house by herself, and started to back down the lane, which, unfortunately, has some curves in it. Every time I had to make a correction or step on the brakes, gravity would take over.
Ken Steinhoff Memorial Ditch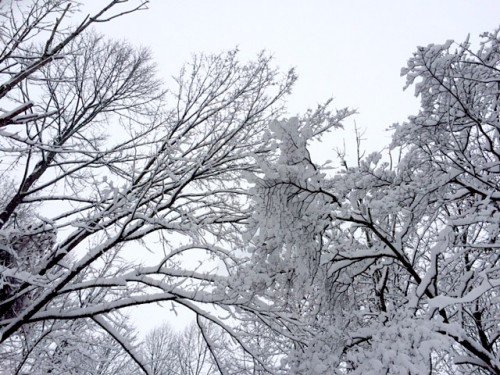 The next thing I knew, I was in a slow slide into a ditch. It didn't matter if I gunned the engine or put on the brakes, it was just a slow-motion train wreck. I called Jessica on my cell to tell her about my predicament.
She and T.J. ambled down to see how bad the situation was. She had a smirk on her face.
T.J. teaches engineering at Ohio University, so I counted on him to take one look and say, "No problem. I'll just go back to the shed and get some duct tape and some binder's twine and we'll have you out in less time than it'll take the Little Woman to heat up some hot chocolate and bake us some cookies."
Instead, he shook his head and said, "You need a wrecker."
 "Call me a wrecker"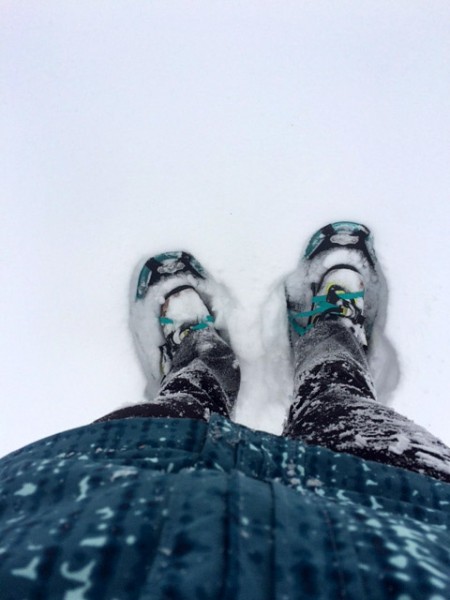 I remember an exchange on the police scanner one night in the distant past: "Athens 1 to HQ, Call me a wrecker."
"OK, Athens 1, you're a wrecker."
When it's almost midnight-thirty on a cold, blustery, rainy weekend night, it's not a good time to call for a wrecker. The first two companies said, "We'll be there on Monday morning. If we can find you."
The third guy said, "I've got my shoes off and I'm sitting where it's nice and warm watching my girlfriend do her homework. But, I'll be there shortly."
I didn't even ask how much it was going to cost. It didn't matter.
The wrecker went sliding down the hill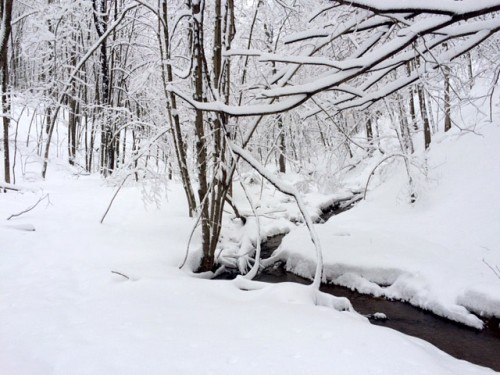 About 40 minutes later, the wrecker showed up. After a little backing and filling, the driver hooked up a tow cable to my van. He told me to stay in the vehicle to "help" him try to move it. I've seen what happens when a cable snaps, so I wasn't crazy about being in direct line of the tow, but I also couldn't open the driver's side door because it was up against a bank.
He took up the slack on the cable, the van gave a little lurch, then the wrecker started sliding toward me. He repositioned the wrecker, gave another pull, and got the same result.
It was time to get creative. He rigged a pulley to a tree on the opposite side of the road and said he was going to try to pull me crossways in the road, with the eventual hope that he could get me onto a solid surface pointing downhill.
When he finally got me to a 90-degree angle to the roadway, he said, "Give it the gas. See if you can pull yourself up and out."
"You can't see it in the dark, but about four feet in front of me is a steep drop-off that ends up in a creek," I warned him. "If it grabs hold, you're going to see a blur and hear a splash."
"You'll be OK," he assured me.
He was right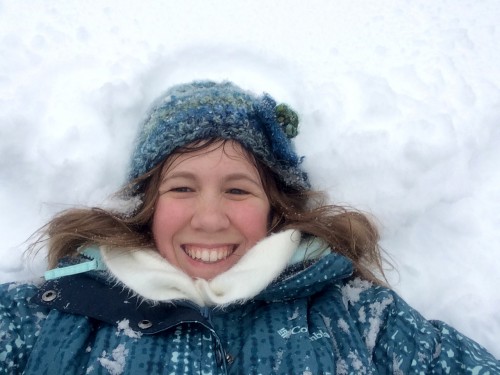 The tires got some bite, I got pointed downhill, he unhooked the cable and said he'd go to the top of the hill to turn around, then he'd meet me at the bottom to settle up.
The trip down was a little interesting, but I made it down to flat ground where their lane meets what passes for a real road. I waited. And waited. And waited. After about 30 minutes, he pulled alongside me.
"I thought I was going to have to call a wrecker for the wrecker," he said.
"Are you the owner or a worker bee?" I asked him.
"I own the company, but I'll entertain an offer right now."
The job cost me a hundred bucks plus a tip. Worth every penny of it.
I was about as happy as Curator Jessica doing a snow angel selfie.
[Thanks to Jessica for providing the photos.]