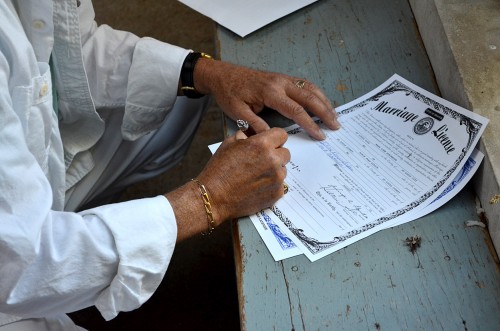 Over my years as a news photographer, I photographed presidents, would-be presidents, a pope and the Queen of England. I was at shot and missed, swung at and hit. I braved fires, floods and famines. (OK, maybe I'm exaggerating about the latter, but I DID go without lunch a few times.)
I waded in flood waters where I realized I represented high ground to the snakes around me, and I stood next to a water tower in a lightning storm hoping to get a good photo (with Wife Lila holding an umbrella over me. She was my insurance policy: I figured God wouldn't strike HER with lightning).
So, where did I draw the line?
Weddings
I used to say that the only weddings I'd shoot were those of friends, and I defined a friend as someone who wouldn't ask me to shoot his or her wedding.
Why did I feel that way?
I hate set-up shots, and most wedding photography I had seen was a collection of cliched set-ups.
I don't herd cats well.
Because of pilot error, technical snafus, processing mistakes and just plain bad luck, I have blown assignments, exposing me to scorn and ridicule from my peers and ugly conversations with editors. None of that scares me like the wrath of a bride's mother who has just found out her Princess Perfect's wedding photos didn't turn out.
Wedding Plan B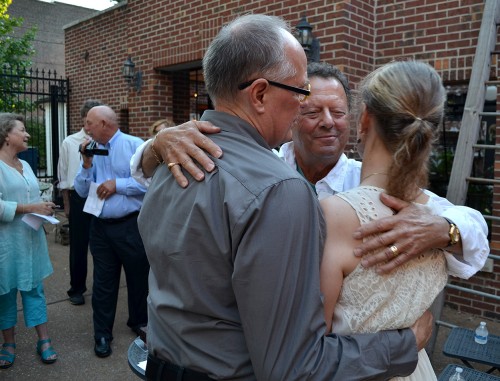 In the few times I couldn't wheedle my way out of shooting a wedding, I'd set a ground rule: I wouldn't deliver the prints until they had been married a year. If the marriage didn't last that long, they wouldn't want them anyway.
That's not to say I wouldn't walk around shooting candids at a wedding. That was a way I could keep from having to make small talk with folks I didn't know, it would give them stuff that the formal photographer didn't shoot, and it would insulate me from mad mothers.
So, when Robin and Brother Mark got married on her birthday, September 8, 2014, I did my wander-around-taking photos thing. Since they made it past the one-year mark, I guess it's safe to post these pictures.
Wedding photo galler
Here's where we all were a year ago. Steinhoff weddings are as unconventional as Steinhoff funerals. I'm happy to deliver these photos. Click on one to make it larger, then use the arrow keys to poke around.