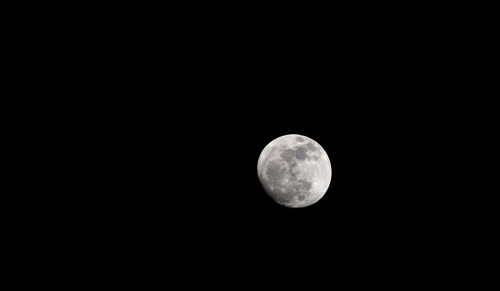 I was headed out the door to grab something to eat when Mother said, "There's a full moon tonight."
"Oh, I wish you hadn't told me. I'm too tired to shoot it," I lamented after a day of cutting wood. (I'm also too tired to write about THAT, too, despite promises I made on Facebook. It'll come.)
That's when I remembered my early birthday present from The Boys: my Nikon 55-200mm lens. How could I pass up a chance to see what THAT would do with the moon.
Not bad. It's always more interesting if it's lower in the sky and if it has some kind of interesting landmark in the foreground, but this will do for a lens test. You can click on it to make it larger.
Photo geek info
I shot the photo with my Nikon D3100. The ISO was 400 and the exposure was 1/320 @ f5/7. The lens was zoomed to the maximum 200mm, which would be the equivalent of 300mm on a standard 35mm film camera.
I underexposed five stops from what the meter indicated (because it was reading all that black sky). It was taken with manual focus instead of automatic because it kept wanting to either grab onto some tree limbs in the foreground or not fire at all because it didn't think there was anything there. One of the nice things is that the focusing ring on that lens is big enough to grab; that's not the case with my 18-55mm lens.
It would be a little sharper if I had bothered to drag a monopod or my new Vanguard Alta Pro 263AT tripod out of the car, but I was too tired and hungry to fool around with fancy stuff.
Oh, and when I got home, I found out that the moon wasn't all the way full. It was only 97% full.