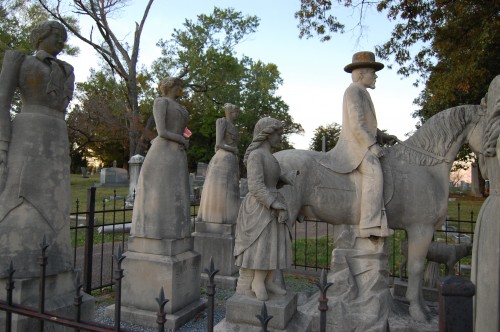 These photos of the Wooldridge Monuments in Mayfield, Ky., were taken October 19, 2008, a date which will become important later on.
The RoadsideAmerica website quotes the Mayfield Monitor's obituary as calling Col. Henry G. Wooldridge "a very eccentric man." The horse breeder, who never married, spent most of his 77 years living with relatives. Before he died in 1899, he commissioned what is now called the Woodridge Monuments, a collection of 18 life-sized statues of humans and animals, including a horse named Fop and two dogs named Tow Head and Bob.
He's the only one buried there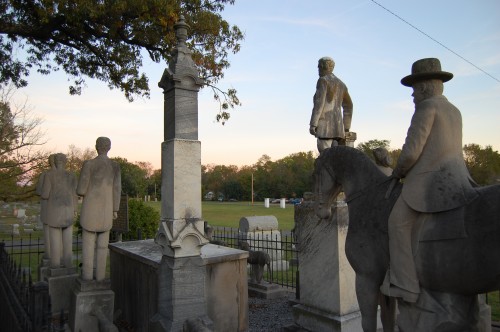 Despite all the statues, Wooldridge is the only person buried in the 17 x 33-foot plot.
A City of Mayfield website lists the human statues as belonging to his mother, Keziah, his brothers, Alfred, W.F., John, and Josiah. Also included are his sisters, Susan Neely, Narcissa Berryman, Minerva Nichols, plus his two nieces, Maud Reeds and Minnie Neely.
There is a story that the statue of Minnie, is Henry's childhood love who died in a riding accident. However, family records prove that Minnie was actually one of the Colonel's great-nieces.
Tree destroyed the monuments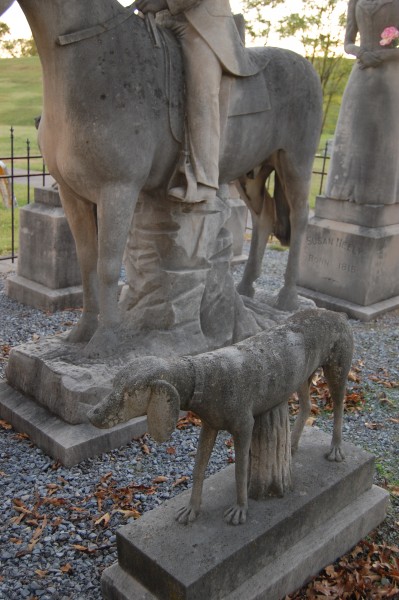 I mentioned that the fact that I shot these photos in 2008 was important. It's because an ice storm toppled a tree on the monuments in 2009, smashing all the stones except for the three women in the back row. My pictures show the original statues.
Things looked bleak for one of the area's biggest tourist attraction until federal disaster money was made available to help out hard-hit Kentucky. The funds covered most of the $100,000 it took to restore the monuments. (Col. Wooldridge supposedly paid only $6,000 to have them built.)
Wooldridge had drunk escort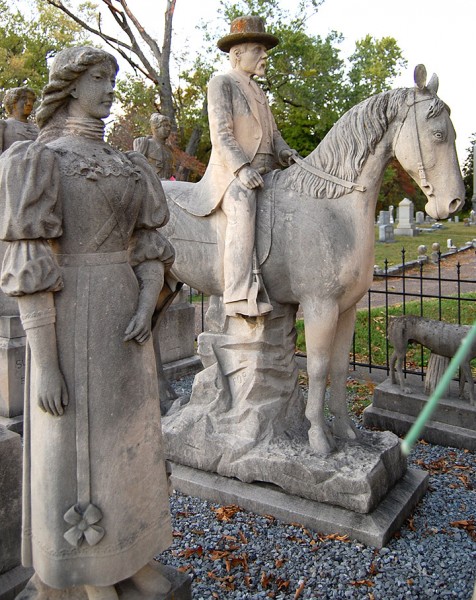 The city's website reports, "According to folklore, the Illinois Central Railroad supplied a special flatcar with "new-type air brakes" to transport from Paducah, Ky., to Mayfield the large statue of Col. Wooldridge astride his horse.
It was told that Mayfield's "town drunk" happened to be in Paducah when the flatcar left for Maplewood Cemetery. The story goes that he climbed aboard the horse and rode behind Col. Wooldridge's statue to enter Mayfield in grand style.
Click on the photos to make them larger.