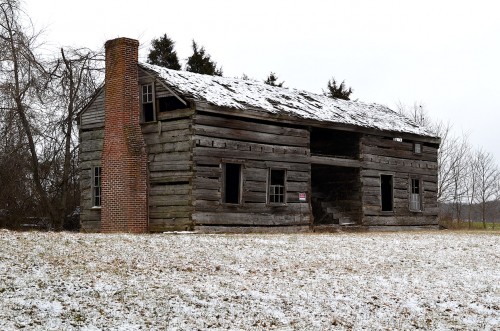 There's quite a difference in the way the Benjamin F. Hunter Cabin looked February 9, 2016, and the way it looked when I photographed it in August 2014. Click on the photos to make them large enough to see how much the building has deteriorated in less than two years.
The cabin in August 2014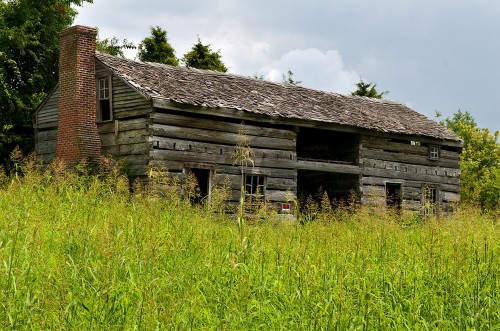 I did a post December 13, 2014, that explored some of the history of the reconstructed log cabin on the road to Old McKendree Chapel.
Has been treated with benign neglect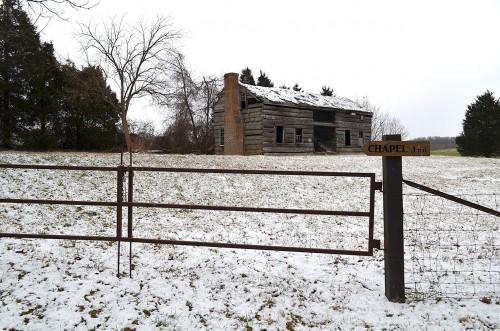 The structure, which was built outside Sikeston in the 1880s and taken apart in the 1980s, was a preservation project undertaken by Southeast Missouri State University in the 1990s. It quickly became a house without a home, with the university proposing, then discarding a number of possible locations.
Gravity will take its toll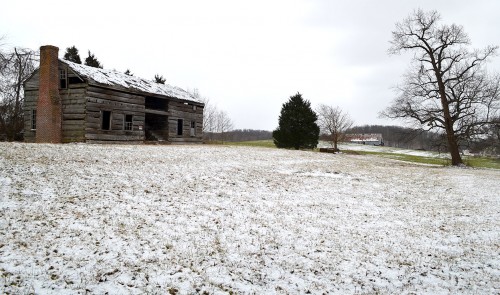 The story I did in 2014 said Dr. Bonnie Stepenoff continued work on the cabin in the mid 1990s, including repairs on the roof, chinking and daubing the walls, placing a gate around the property, reglazing the windows, and conducting additional student research.
From the amount of light streaming through the gaps between the logs, I would say most of that chinking has fallen out. The roof has holes in it, and you can see some of the logs have fallen out just between 2014 and this week. Unless something is done fairly soon, gravity is going to take over and all that will be left will be a stack of rotting logs.
Of course, that's the university's approach to preservation: neglect a property until you can say that fixing it will cost more than tearing it down.