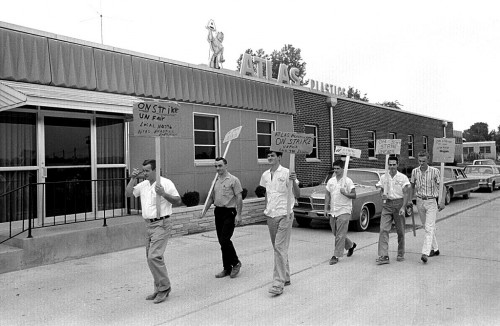 The Missourian caption under my photo on the front page August 29, 1966, read, "A line of pickets bearing signs proclaiming a strike against Atlas Plastics Corp. here march in front of the company offices on Broadview. The walkout began Saturday afternoon. From left, the men are Lawrence Hagan, Glen Grojean, Tom Gibbar, Joe Gockel, Mitchell Gill and Earl Rhodes. (Click on the photos to make them larger.)
Albert M. Spradling, the company's attorney, said the union was asking for an across-the-board wage increase of nearly a dollar an hour plus additional fringe benefits. Atlas Production workers earned an average of $1.88 per hour, Spradling said.The company wanted to spread the increase over a three-year contract; the union was holding out for a one-year agreement.
Atlas was third Cape strike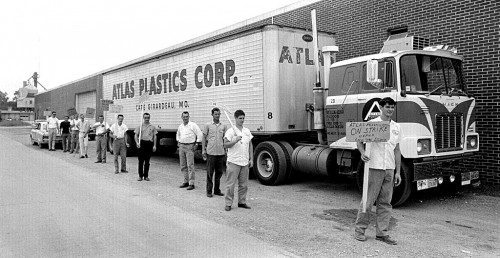 A September 21, 1968, story said that a walkout of 200 employees had shut down the Atlas plant, the city's third industrial strike in three months. The International Brotherhood of Electrical Workers Local went on strike July 29 at Davis Electric Co., and IBEW Local 1601 employees of Superior Electric struck Aug. 18. I wonder if these strikes were tied in with the parent and student protest at the Jackson Junior High School in 1964.
Six employees were arrested September 24, 1968, when they blocked a truck leaving the plant after being served a restraining order.