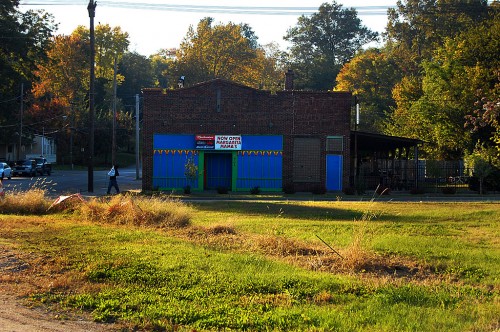 When I published a piece on Hirsch's Midtown, formerly known as Hirsch Bros. No. 1, and the establishment of Hirsch Bros. No. 2 as Hirsch's Northtown, I mentioned that I didn't think I had ever  been in the Mill Street and Main Street store.
Susan Fee Means commented on Facebook, "Ken – if you'd ever been to The Mule Lip, across from the old shoe factory on Main St, then you'd been to the Hirsch #2 store. Or at least the building."
I led a sheltered life. I was never in The Mule Lip or its reincarnation as Margarita Mama's. Now that the casino has leveled that area, I guess I missed my chance.
[Note: we made it as far as Lake City, Fla., tonight. I'm staying in a nice Comfort Suites I've stayed at before. I pulled in shortly before midnight after driving through moderate to heavy rain most of the day. The desk clerk gave me her "Your eyes sure are bloodshot super discount" that she said was even better than the alphabet soup list of names I usually give her.]