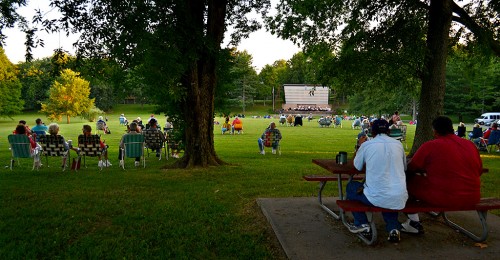 I had a hankering to attend a band concert. I missed Cape's Wednesday night concert at Capaha Park, but happened to be coming back from Perry County with Friend Shari on July 11, so I suggested we catch Jackson's concert.
It took a bit of looking to find it,. We were a little early, so I told my passenger (who had slept most of the way back from Altenburg), "I'm going to take a 7-minute nap," and set my alarm. When I woke up seven minutes later, she said, "You REALLY can fall asleep fast, can't you?"
I couldn't figure out why people were setting up their chairs at the top of the hill, several hundred yards away from the bandstand. I mean, sure, being able to get to the parking lot in a hurry is nice, but you needed binoculars to see the stage and I couldn't imagine that you'd hear anything that far away.
Great warm-up act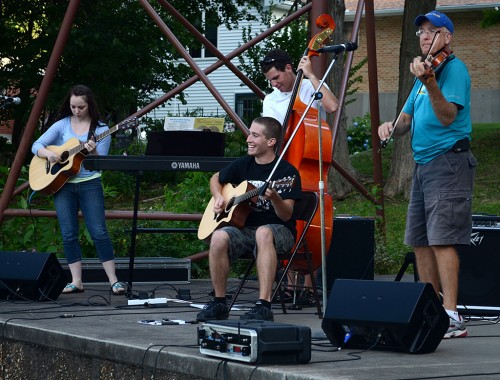 Steve Schaffner's group got toes to tapping. I could have listened to them all evening. Shaffner retired this spring after 22 years of conducting the Central junior, senior high school orchestras.
And, much to my surprise, the sound was great. I walked all the way up to the folks sitting at the top of the hill and could hear as well as if I had been in the front row. The guy running the sound board did a great job.
The main event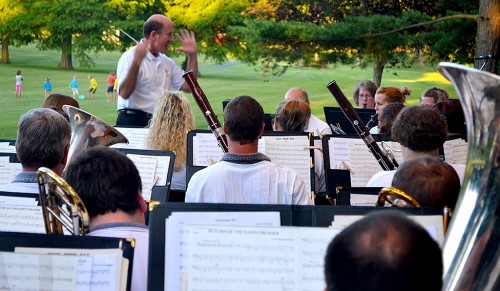 Before long, the Jackson Municipal Band took the stage. They played well, with enthusiasm and the crowd liked them, but I'm low-brow enough that I like the group that played Blue Grass, folk and country music. I'm not complaining about the muni band, but it's not really my thing.
The Municipal Band's website has the history of the organization, which dates to 1920, and a current schedule.
Great evening, great location, perfect weather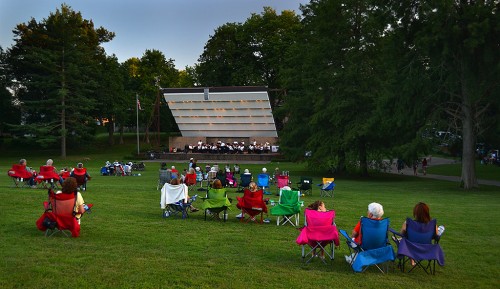 If I only make it to one band concert every 40 or so years, I'm glad I went to this one. The music was great, the temperature was perfect, the sound system was excellent and the mosquitoes must have gotten lost. These is plenty of parking, so I think I'd rather go to Jackson than Capaha Park.
It looked to me that everyone was having a good time, particularly when free ice cream was handed out.
Band concert photo gallery
Sometimes it's better to let the photos tell the story of an evening. Click on any image to make it larger, then click on the sides to move through the gallery.