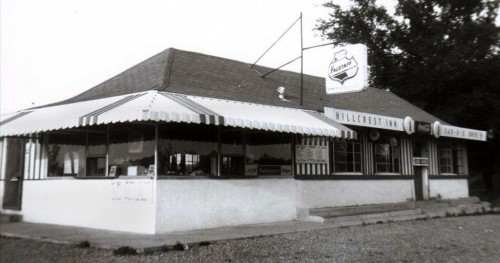 I have so many photos of my own to wade through that I usually don't publish ones by other folks, but I found this offering from Jeffry Boswell Hawk, Class of  '61 too interesting to pass up. She writes about the Hilltop Inn, located on Kingshighway across from the StarVue Drive-in. I don't recall ever seeing it, even though it's just up the road from our house on Kingsway. I'll let her and her brother, Wayne tell the story.
Family-run business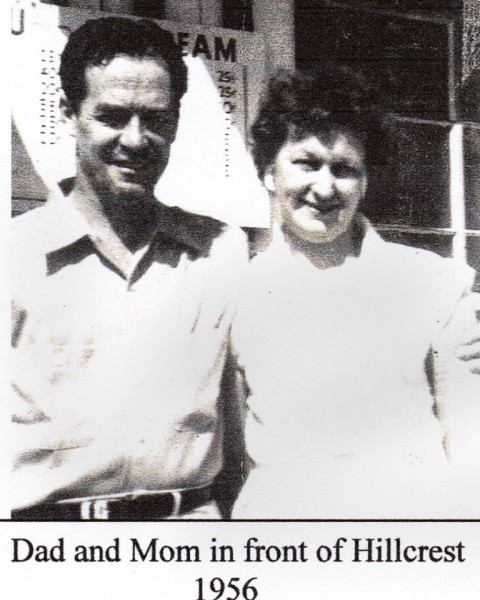 Hillcrest was a family-run BBQ Drive-In with inside and curb-hop service. We sold BBQs, Hamburgers, Cheeseburgers, Deep-fried Chicken and Shrimp, French fries, cole slaw, soft drinks, shakes and Beer (*with 3.2 alcohol). *That is why we (my brother and sisters) were able to work there for our parents.
Daddy's given name was Homer Franklin, but back when he was very young, and I suppose, also very mischievous, there was a very popular book called, Peck's Bad Boy. Peck's bad boy's name was "Jeff". So, He ALWAYS went with the H.F."Jeff"Boswell name. And, yes, I'm named after my dad's nickname. Mom's name was Erma.
Mom did all the cooking- Daddy helped as needed and ran the operation. We kids, waited tables, curb-hopped, filled the soda and beer coolers, swept and mopped floors, washed windows and dishes, helped prepare the hamburger patties, peel potatoes for the fries and put them thru a hand-pulled slicer. Custodial work was also our job as well as mowing the grass. That's where I learned to operate a riding mower.
Outdoor beer garden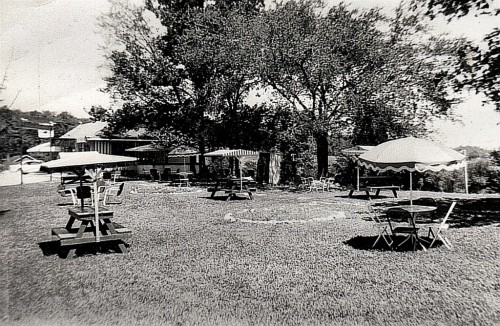 Daddy, with the help of my older brother Wayne, built covered picnic tables and an outdoor walk-in cooler which was surrounded with a bar and stools.  The outdoor beer garden also had an archery range behind the building and horseshoe pits. There was also an outdoor jukebox in case someone wanted to hear their favorite music and dance.
Our indoor restaurant seated about 28 people in 7 booths that lined the walls; and probably about 10 tables with 4 chairs off the dance floor; with about 5-6 more tables on the dance floor. So probably about 80-to 90 people in tables and booths and a wrap-around bar with about 14-15 stools to allow for about 100 people. The food preparation went on inside the wrap-around bar.
Filled with dancing kids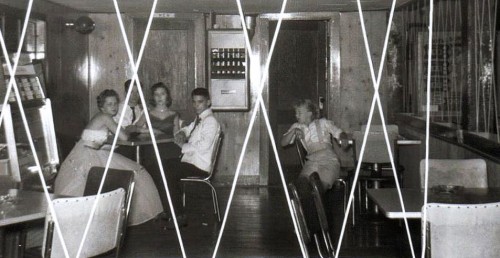 Friday and Saturday nights, the dance floor was filled with high school seniors and college-aged kids from Cape and Jackson doing the jitterbug and slow-dancing. There was also a bumper pool table, pin-ball machine and a slide-bowling machine that were kept busy with players.
Sunday was usually family day for lunch and supper. Mom also made breakfast for some of the regulars from time to time. Several farmers would stop in for lunch.
Last business before Jackson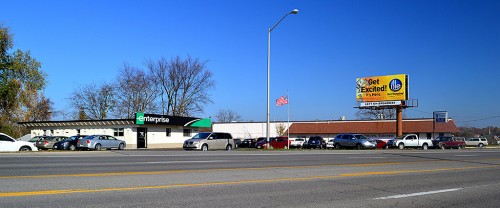 Hillcrest was the last business building on the right side of Kingshighway (61) with the StarVue Drive-In Movie until you got to Jackson.
Mom and Dad got a call about 8 am one Saturday morning telling them that Hillcrest was on fire. We lived out in Red Star with only Broadway straight thru to Kingshighway to get to Hillcrest, so by the time they got there, it was fully engulfed with flames. I still have a couple of burnt, melted dimes fused together as a memento- but many happy memories of our family working out there together!
(Daddy didn't build another business there because he knew that the interstate would be built soon after and he thought that it would by-pass Cape and no one would be able to get off or drive 'that far' to the business.) If only we could have known what we know now!
– Jeffry Boswell Hawk '61 – Jackson, MO
Across from StarVue Drive-in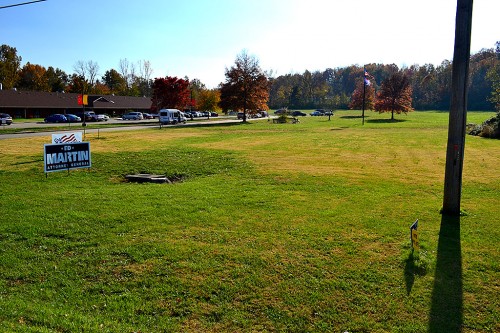 I don't know the exact date when we bought the Hillcrest, but it was sometime around 1955. We only owned the business, not the building. When the building burned down sometime in 1958, the land owner offered to sell us the 25 acres of land the building was on for $25,000. Unfortunately, our parents did not have enough money to buy the land at that time or money to rebuild the building and we lost our income when the building burned and our parents had to find another source of income. The land behind where the building was located, is currently occupied partly by a condominium complex.
– Wayne Boswell