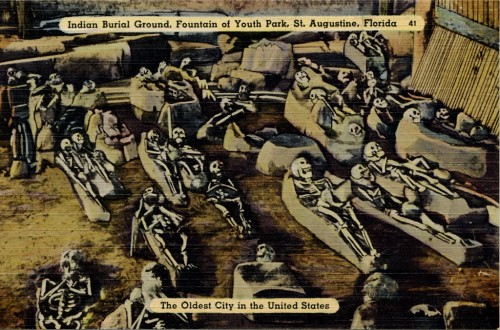 In the 1930s, "Indian burial grounds" were uncovered as much to turn a buck as tourist attractions as for serious archeology. My parents picked up this postcard on their way through St. Augustine on their honeymoon. (Click on any photo to make it larger.)
Burial grounds found at Fountain of Youth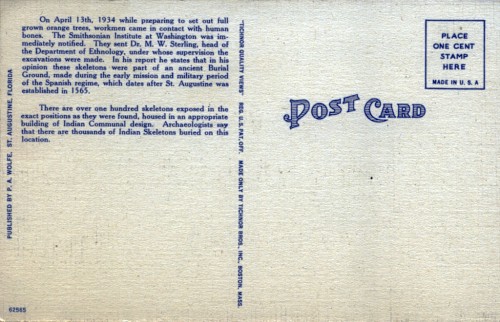 The back of the post card says the burial site was found when workers were planting orange trees. Another source says the mayor of St. Augustine embraced a grand scheme to "result in making St. Augustine a great laboratory of history, as well as in the fine arts and social democracy, useful not only in understanding more fully how life progresses, but effective because of its objective realism, far more than books and classrooms can be, in educating all classes of citizens in what may be termed `historical mindedness."
The mayor wasn't exactly impartial. He was the manager of the Fountain of Youth Gardens ("St. Augustine's most popular tourist resort, where thousands flock daily during the season to drink of the clear, sweet water, although no pretension is made of its medicinal value and it is doubtful whether Ponce de Leon ever found the miraculous Fountain of Youth except in his dreams.").
It was his workers who discovered the bones. To his credit, he called in an expert from the Smithsonian Institution to investigate. They discovered hundreds of skeletons "which had been buried under Christian influence, as indicated by the postures with the hands crossed over the breast." [Insert a note of skepticism here.]
Ancient Buried City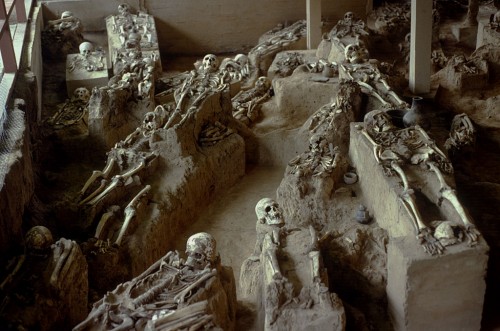 Closer to home was what was called the Ancient Buried City in Wickliffe, Ky. Somewhere in my mess are photos I took of the attraction with my Kodak Tourist II folding camera in 1960, but I couldn't put my hands on them.
I DID run across these shots from the early 80s, when it was making the transition from a tourist trap to a serious site for research and training. As a kid, I was fascinated by the idea of seeing skeletons. When I got older, I'd look into those empty eye sockets and wonder what they had seen nearly 900 years earlier. What a story those old bones could tell if only they could speak.
Controversial because of sensational advertising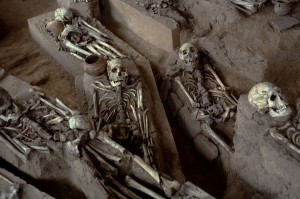 "Amateur and semi-professional excavations first began in the site around 1913 and continued sporadically for several decades. In 1930, Colonel Fain W. King, a businessman from Paducah, Kentucky, began private excavations of the site, intending to turn it into a tourist attraction. In cooperation with his wife, Blanche Busey King, he opened the site for tourists under the name 'Ancient Buried City.' The Kings' venture was highly controversial because they used sensational and misleading advertising, altered the site to make it more visually appealing, and made dubious and exaggerated interpretations of the site. These actions put them directly in opposition to professional archaeologists who studied the site and did not want it disturbed."
Deeded site to Western Baptist Hospital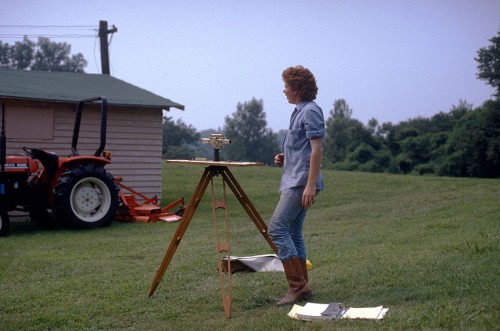 The Kings followed some proper archaeological techniques, but their field notes and other records have disappeared. Mrs. King published a book called Under Your Feet in 1939, but much of the material they produced is missing.
The Kings deeded the site to the Western Baptist Hosptial in Paducah when they retired in 1946.  The hospital continued to operate it as a tourism business until 1983. probably about the time I shot these photos. It was donated to Murray State University in 1983, and the Wickliffe Mounds Research Center was established.
No new excavations planned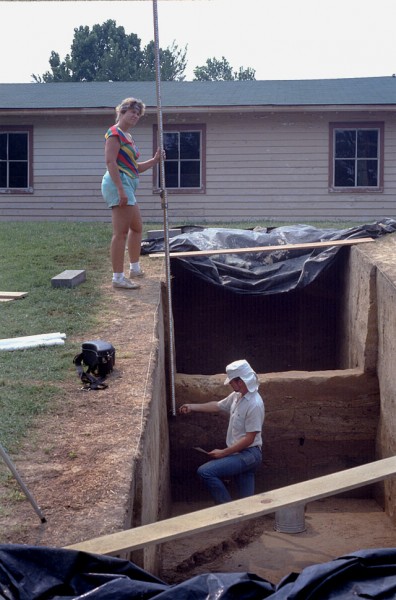 The Wickliffe Mounds State Historic Site Tour Guide has lots of good information in it. One thing that caught my eye is that no future excavations are planned. "Since excavation destroys the part of the site being studied, modern archaeology justifies excavating only what will produce new information. Archaeological sites are a non-renewable resource. Until the most recent excavations are thoroughly studied, and new questions or techniques can be brought to the study of this site, or if mitigation projects become necessary, Wickliffe Mounds State Historic Site will continue to preserve the site and interpret the latest findings, but will avoid further excavations."
Another modern change is that the skeletons I photographed in the 60s and the 80s have been removed from display for study and reburial. The Tour Guide says that ten burials have been replicated in plastic, copying as closely as possible their original positions. I can understand the reason for doing that, but I can't believe that a 12-year-old boy looking at a plastic replica will get the same feeling I got when looking at the bones of an ancient people who had lived on these grounds long before Europeans ever dreamed there was an America. Those were real bones of real people, not a Disney exhibit.
Here's a link to the Wickliffe Mounds State Historic Site website.