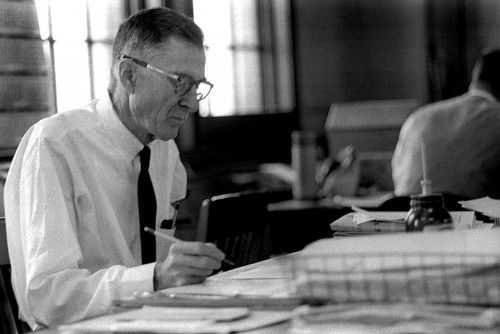 Aven Kinder was one of the most buttoned-down guys I ever worked with. In a business made up of characters and misfits on their way up or on their way down, Mr. Kinder (I couldn't imagine calling him by his first name) was a model of stability.
Even though he was the Farm Editor and had to roam all over the area dodging cow pies, I never saw him with his sleeves rolled up or his tie at anything but full mast.
He had only two speeds: Slow and Steady. I never saw him get angry or get in a hurry. He was the most methodical guy in the newsroom.
I was there when he retired in 1967. after 38 years at The Missourian. The front page story about his last day said that he was honored by management and his fellow workers who presented him with a $100 savings bond. It's hard to tell in the badly-reproduced microfilm photo, but I'm almost sure there was a flicker of a smile on his face. He doled those out sparingly.
Mr. Kinder hired on with the paper in 1929; he and One-Shot Frony were the only ones left of the original five members of the staff from that era. For three consecutive years, 1962-1964, his farm pages were judged best in the state. The paper came in second in 1965.
The story said he had no plans for retirement except to "fish a little and hunt a little." He and Mrs. Kinder, a teacher at May Greene School, lived at 1456 Rose Street. (His obit said 1457 Rose Street, but the City Directory confirms 1456. I bet he did a spin in his grave over that.). What I find amazing in retrospect is that Mr. Kinder retired at 65 with 38 years in the business. I always thought of him as an "old man." I retired at 62, with 45 years under my belt, 35 of them at The Post, and didn't think I was old.
Aven Kinder obituary
Aven Kinder, 84, died Jan. 23, 1986, at the Lake Ridge Health Care Center in Roseville, Minn.
On Oct. 5, 1930, he married the former Berenice Piles at Piedmont. She died in March of 1970. On May 5, 1973, he married the former Verrell Whittaker at Advance. She preceded him in death May 21, 1973. (Those are the kinds of dates Mr. Kinder would have come over to ask, "Are you SURE of that?" The dates, sadly enough, are right. The two were married on May 5, and the new Mrs. Kinder died "unexpectedly" on May 21.)
Surviving are a daughter, Mrs. Eugene (Sherrill Sue) Wright, St. Paul, Minn.; sisters Mrs. Elna Amsden, St. Louis, and Mrs. Marie O'Neal, Scott City; and two grandchildren.