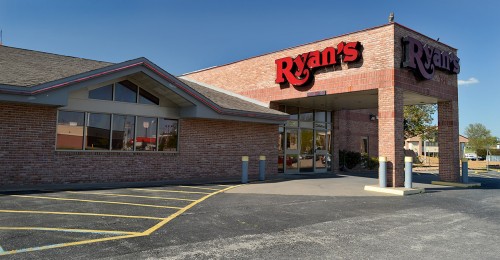 After doing some business at the Verizon store, I drove around checking on some new construction of Vantage Drive. That took me into the parking lot of what used to be Ryan's (we always called it Ryan's Steak House, but I don't know it that was ever its real name).
Closed with no warning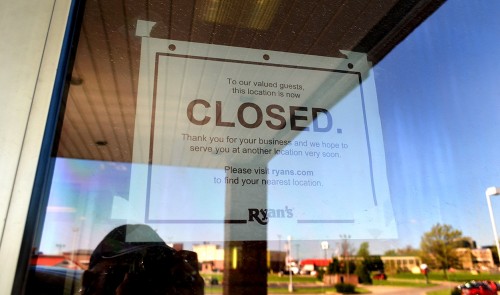 A March 9, 2016, Missourian story said the buffet / steak house closed unexpectedly on Sunday. Employees were notified by a sign on the door telling them to return Tuesday "for further instructions."
The parent company, Buffets LLC announced it was filing for bankruptcy. They didn't waste any time shuttering the place. The newspaper story said that an auction company announced that a preview would begin on March 9, and the complete contents of the restaurant, including equipment, furniture, decor and smallwares were on the block. They were one of nearly 100 restaurants that were closed, partially for "poor performance."
I went to the website mentioned on the sign to find the location of the next nearest Ryan's. If you have a craving, better fill up the gas tank. There are only three within 75 miles of Cape: Poplar Bluff, Union City, Tenn., and Mount Vernon, Ill. (And, that's assuming the website is being updated.)
Maybe here's a reason the closed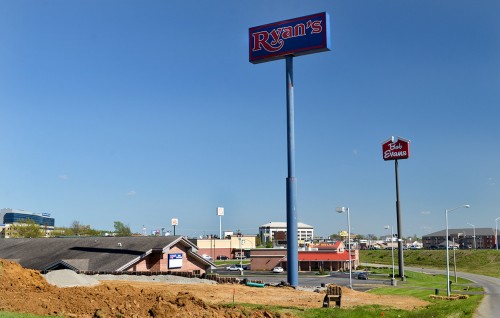 Ryan's was a staple of ours for years. Then, about 10 or so years ago, I started begging off it it when Mother would suggest the place. I like buffets, but the food has to be fresh and have a lot of variety. As best as I can remember, it started slipping.
Apparently I wasn't the only one to think that. I checked some online reviews. One on Tripadvisor, dated March 1, 2016. said "the food tasted like road kill dipped in fecal matter."
An April 1, 2015, long review started by saying, "This is by far the worst restaurant I've ever been in," and went on to list all the things he found wrong with it. Others, as recently as a month ago, said it was "disappointing," and "on a downward spiral."
Still, you have to feel sorry for the folks who worked there, like the woman who posted on the Ryan's Family Steak House Facebook page, "Feeling sad. Well, my fellow former coworkers, it's been real. I'm gonna miss you all! And miss working with everyone! Definitely had some good laughs and times! Wouldn't change it! Keep in touch!"