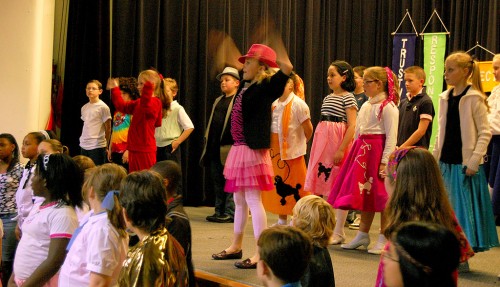 Miss Alma Schrader had an excused absence for missing the 50th Anniversary of the school named after her: the veteran Cape Girardeau school principal died shortly before the school opened. She would have been 124 years old, had she been able to attend, Principal Ruth Ann Orr joked.
You can read about Miss Schrader and see photos of the kindergarten class of 1967 at this link.
Alma Schrader's  five principals attended

All five of Alma Schraders' adminstrators attended the ceremony, including Vince Raddle, Roy Glass, Frank Ellis, David Giles and Ms. Orr.
"I hope you don't get into trouble"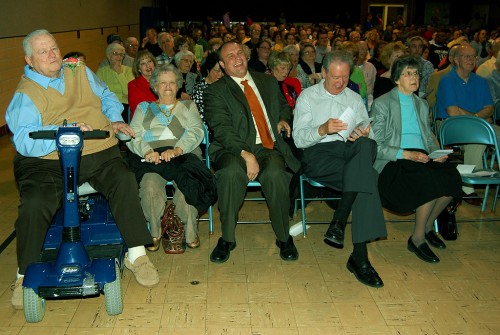 Roy Glass, left, was the school's longest serving principal, with 21 years at the post. His grandson, Neil Glass, third from left, director of administrative services, said he used to ask his grandfather for the keys to the school so he could play in the gym when he was a kid.
"I hope you don't get in trouble for that," he joked. "I didn't turn on the lights," he added.
Those were simpler days and more trusting days. Central High School principal Fred Wilferth gave me the keys to the high school one evening in 1963 so I could process a spot news photo in the school darkroom. That photo launched my career in photojournalism.
Standing room only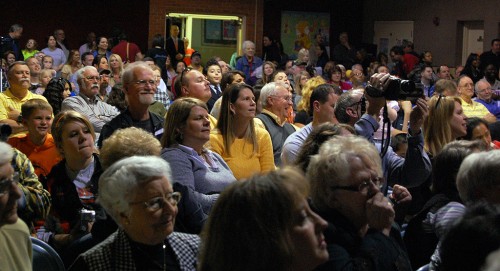 I had to park my car about two blocks away. The hills in that neighborhood are a lot steeper than when I was 12 years old flinging papers in front yards.
The school's gym was filled to standing room only. It seemed like every third person was recording the event in some form or fashion.
Two generations of students
After the formal ceremonies, many of the attendees stayed around for refreshments and to look at old school scrapbooks and yearbooks.
There were several multi-generational Alma Schrader families. Dr. Ryan Davis flips a scrapbook page while Raleigh and Grayson Davis and Sarah McKinley watch.
Jim Gerhard, '59
Jim Gerhard was the only member of the original Class of 1959 to attend. He came across the state from Joplin for the celebration.
Gallery of Photos
Here is a collection of photos from Alma Schrader's 50th Anniversary celebration. Click on any image to make it larger, then click on the left or right side of the picture to move through the gallery.