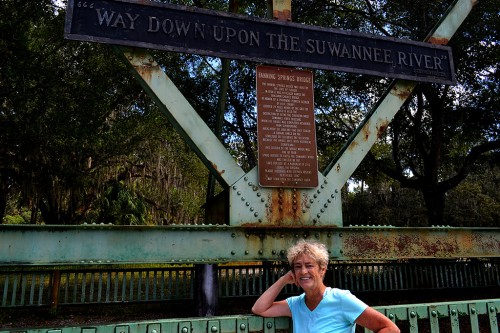 Friend Shari and I had another good day on the road. We left Ocala at a reasonable hour (for me, at least) and headed for Steinhatchee, where I had been talking up the blue crab claws at Roy's for days.
We stopped at the Fanning Springs on the Suwanee River because that's where we let the kids run off some steam when we were passing through. I told her we have pictures of Son Adam as a naked baby being sprayed down at a water faucet, but she declined to replicate the event.
She WAS willing to pose next to the bridge that spanned the river in 1934.
What!?!? No crab claws?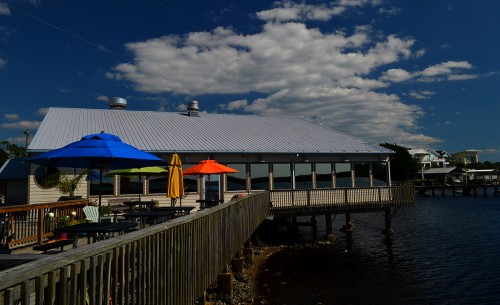 When we got to Roy's, I told the waitress that I knew exactly what I wanted: an order of steamed blue crab claws.
In a tone that indicated that she had delivered the sad news more than once, she said they were out of crab claws AND oysters.
"You're OUT of crab claws?!?! We drove 300 miles to taste those wonderful things. Are you SURE?"
She was sure.
We ended up with an excellent salad bar and a seafood platter that was good, but it wasn't crab claws.
Establishing motel standards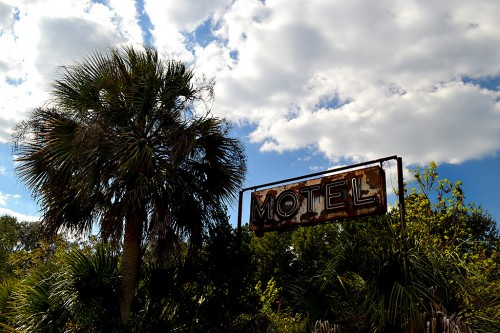 You may have read about the difficulty we had agreeing on a place to stay Friday night. One porridge was too hot; one porridge was too cold; one porridge was too expensive; another porridge was, well, you get the idea.
Just outside Perry, I spotted a MOTEL sign on the other side of the road. I braked just short of smoking tires, did a U-turn and pulled to a stop in front of the place.
"I want to establish a set of standards of acceptability so we don't go through what we went through last night. Let's see if we can agree on a the minimum that we can live with."
Do you like plants in the room?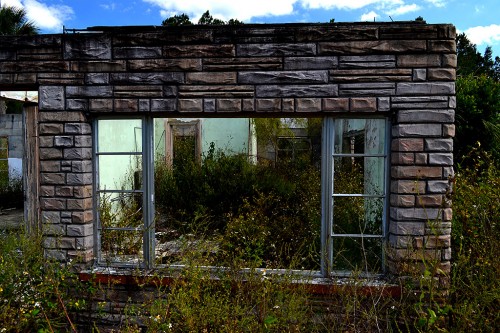 I thought she'd like to have plants in the room. The fact they are live and not plastic should add points.
Clean bathroom important?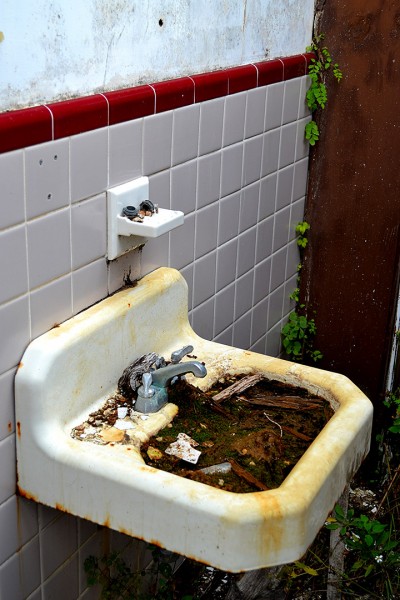 When we were coming into Mariana, I asked if she wanted to stop there or journey on to Dothan, 40 minutes up the road. She plugged "Starbucks" into her mapping program, found out the nearest Starbucks was in Dothan, and said, "Take me to Alabama."
Are you influenced by sale prices?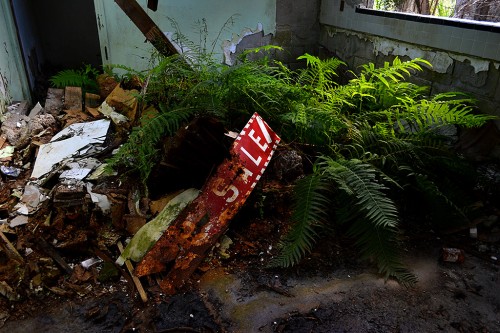 Conversation lagged, so I fired up the MP3 playlist that I use on my bike. It might have been my imagination, but I thought she sang along to "I Can't Get No Satisfaction" with just a little too much feeling.
Is a mural desirable?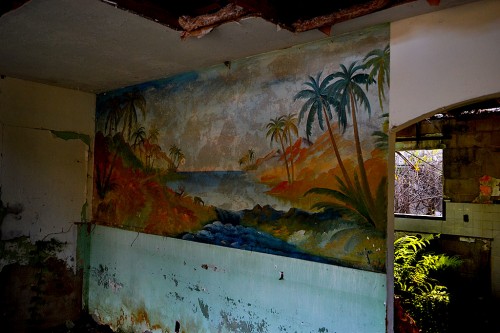 Shari saw some of the works of the Florida Highwaymen, a group of 26 black artists who painted iconic Florida landscapes in the 1950s, and was taken by their style. I thought a room with a mural would get a high rating.
Do you require black-out curtains?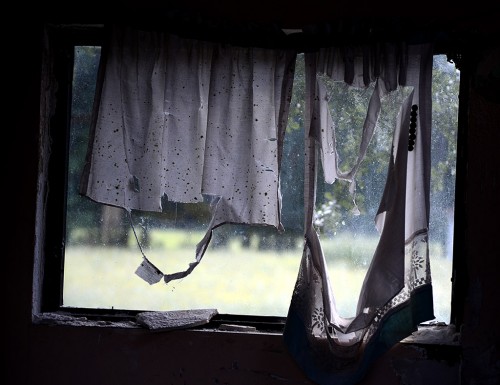 Does the room have to be completely dark for you to sleep?
Ash trays in non-smoking rooms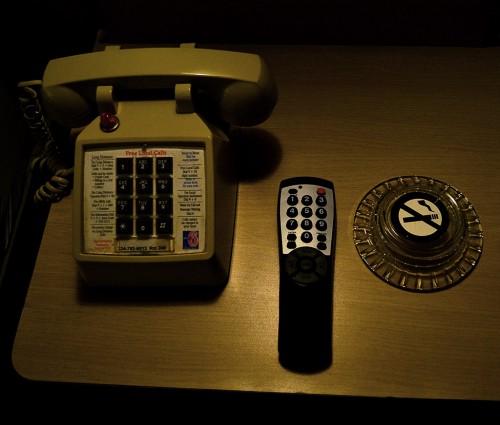 We ended up in a Motel 6 in Dothan close enough for us to double back to Mollywood so Shari can be photographed with Elvis.
Lynette, the front desk clerk, was one of the high points of the day. She was funny, helpful and put up with our bantering. She did tell us to expect one curious thing when we got to the rooms: the rooms are non-smoking, but they have ashtrays in them.
"That doesn't make any sense." I argued.
"People lie," she said. "They smoke anyway, and they were burning holes in our sheets and carpets, so we put ashtrays in all the rooms."
I warned her that I'd be back if I could smell any smoke in MY room. As it turned out, the room was acceptable (and, better yet, it was only $35.63. I've paid a lot more for a lot less before).
If you decide to stay there, tell Lynette, a Chicago transplant, we said "Howdy."
UPDATE on Motel 6 room
When I checked in, I pulled down the bed cover and gave the sheets and pillow a quick sniff test. They seemed to be OK in my ashtray-equipped non-smoking room,
I finished this post and rolled into bed around 2 a.m. Central time, which would have made it about 3 a.m. Head Time since I live in in the land of Eastern time. The bed was great; the pillow was OK; the air conditioner was a bit noisy, but kept the room at the right temp. Life is good.
Smoke embedded in innards
I was out like the proverbial light. For about an hour, that is.
I woke up with my nose stopped up and a scratchy throat. My quick sniff test hadn't been deep enough to pick up the smoke deeply embedded (pun not intended, but I'll take it) in the mattress, pillow innards or some other place. I popped an antihistamine that helped, but I was conscious of that smoke every time I woke up.
The price was great; clerk Lynette was a delight, and the room was much better than expected, but I'll never stay in a place again that puts ashtrays in non-smoking rooms. And, I have a spot reserved in a very hot, smoky place for people who smoke in non-smoking locations.
I don't know if the ashtray thing is a local option or if all Motel 6 locations do it. I think I'll solve the problem by never staying in one again.