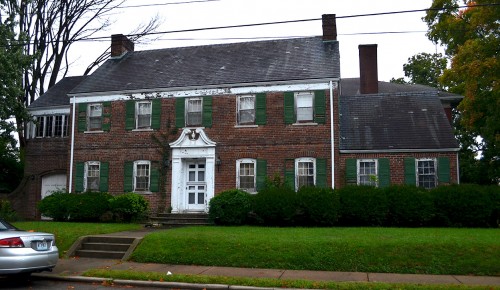 I parked in front of this house at 831 North Street when I took the pictures of 347 North Pacific Street for another story. The house looked like it must have been something Back in the Day, so I banged off two record shots of it.
Here are some stories from The Missourian about the families who lived there over the years. Most of them are briefs. If they were longer than that, I included a link.
December 24, 1941 – Among students home for the Missouri School of Mines at Rolla for the Christmas and New Year holidays are Alvin G. Haas, a senior in mechanical engineering, son of Mr. and Mrs. Alvin Haas, 821 Themis Street; Eddie Vandeven, a junior in electrical engineering, son of Mr. and Mrs. Edwin H. Vandeven, 831 North street; and John Leming, a freshman, son of Mr. and Mrs. Wm. E. Leming, 300 North Pacific street. [Editor's note: "William" was always spelled "Wm." in Missourian style. So far as I know, that's the only name that was routinely abbreviated.]
August 13, 1943 – At a meeting of a pinochle club with Mrs. Edwin H. Vandeven, 831 North street, Thursday afternoon, awards among the members were won by Mrs. John Knaup, Mrs. F.X. Roth and Mrs. Leslie J. Eagle, with Miss Lillian Nenninger receiving a guest prize. At an extra table of guests, including Mrs. John A. Vandeven, Mrs. John Nenninger, Mrs. Wm. Nenninger and Mrs. Joe Francis, awards went to Mrs. John Vandeven and Mrs. Wm. Nenninger.
October 27, 1947 – Mr. and Mrs. James Kearney, 831 North street, are the parents of a son, born at 3:50 o'clock Saturday afternoon at St. Francis Hospital. The child is the fourth in the family and fourth son. Mr. Kearney is associated with the Markham and Brown Construction Company.
Eight residences share $80 prize
December 28, 1948 – Eight Cape Girardeau residences, entrants in the annual outdoor Christmas lighting contest sponsored by the Retail Merchants Association will share in the $80 prize money following ratings by three out-of-town judges Monday night. For the section north of Broadway, first prize for the most artistic display was won by Mrs. James Kearney and sons, 831 North street.
April 13, 1949 – Mr. and Mrs. A.P. Rueseler, 820 Merriwether street, have purchased the James Kearney home at 831 North street and expect to take occupancy of it within the next two or three weeks. Their daughter, Miss Ruth Rueseler, a student at the University of Missouri in Columbia, will be here to spend the summer vacation with her parents in their new home.
January 28, 1950 – In the midyear commencement class Wednesday at the University of Missouri wil be Miss Ruth Ruesler who is to be graduated with a B.S. degree in Elementary Education and who, on Feb. 6, will become a faculty member at Franklin School. She is the daughter of Mr. and Mrs. Albert P. Ruesler, 831 North street who will go to Columbia Tuesday to attend the ceremonies. The Ruselers now have with them for a weekend visit another daughter, Mrs. C.E. Burgett and her small daughter, Margaret Ruth, and young son, Mark Douglas, of Columbia.
Crystal shower and dessert bridge
August 28, 1950 – For Miss Ruth Rueseler, fiancee of Charles Knote of Cape Girardeau and daughter of Mr. and Mrs. A.P. Rueseler, 832 North street, Miss Rosemary Craig and her mother, Mrs. John Craig, honored the bride-elect Saturday afternoon at a crystal shower and dessert bridge.
February 16, 1951 – Numerous parties have been given in honor of Miss Ruth Gene Leming, fiancee of William Lewis Tucker of Jackson…. Mrs. A.P. Rueseler and her daughter, Mrs. Charles Knote, were hostesses at the Rueseler home, 831 North street, as friends greeted Miss Leming at a crystal shower.
December 30, 1967 – Miss Judy Carole Edwards and Ronald Charles Rueseler were united in marriage last Saturday afternoon at the Westminster Presbyterian Church in a double ring ceremony performed by the Rev. Thomas N. Bass. …The former Miss Edwards is the daughter of Mr. and Mrs. Harold Edwards of Kennett. Mr. Rueseler is the grandson of Mrs. Albert P. Rueseler, 831 North street.