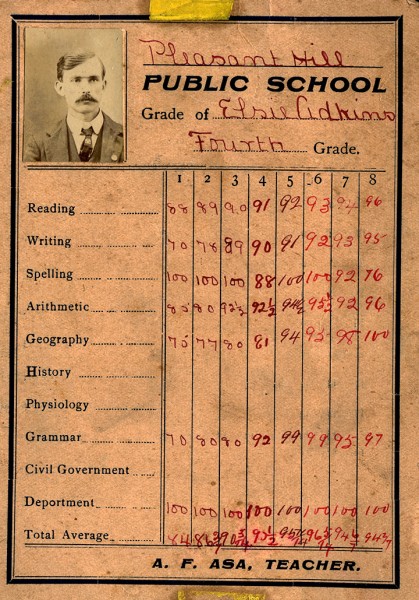 This morning's Facebook page for the Advance Hornet Alumni carried a bunch of photos of the 2013 Alumni Banquet. Mother is down in Austin floating around in Niece Kim's pool, so she didn't attend.
I was looking through some old Advance scans when I ran across my Grandmother Elsie Adkins (Welch)'s 4th grade report card. Looks like she showed steady improvement every month in everything but spelling. Maybe the words got longer as the year went on.
How do you like that 100% rating in deportment? She was a feisty thing, so I'm surprised she got those perfect scores. Who would have thought the teacher's photo would be on the report card?
My great-grandfather's signature changed
Pupils were rated monthly and parents had to sign the card. My great-grandfather's signature was consistent the first five months, but changed in months six through eight. If her grades had dropped, I might accuse my grandmother of forging his signature.
Elsie Adkins was born September 24, 1892. If kids started school when they were around 6, then this report card would be close to 111 years old. Could that be right? (1892 + 6 + 4 = 1902. 2013 – 1902 = 111. Yep, it all calculates out.)
Elsie Adkins Welch was an extraordinary woman for her time. It's worth a read.